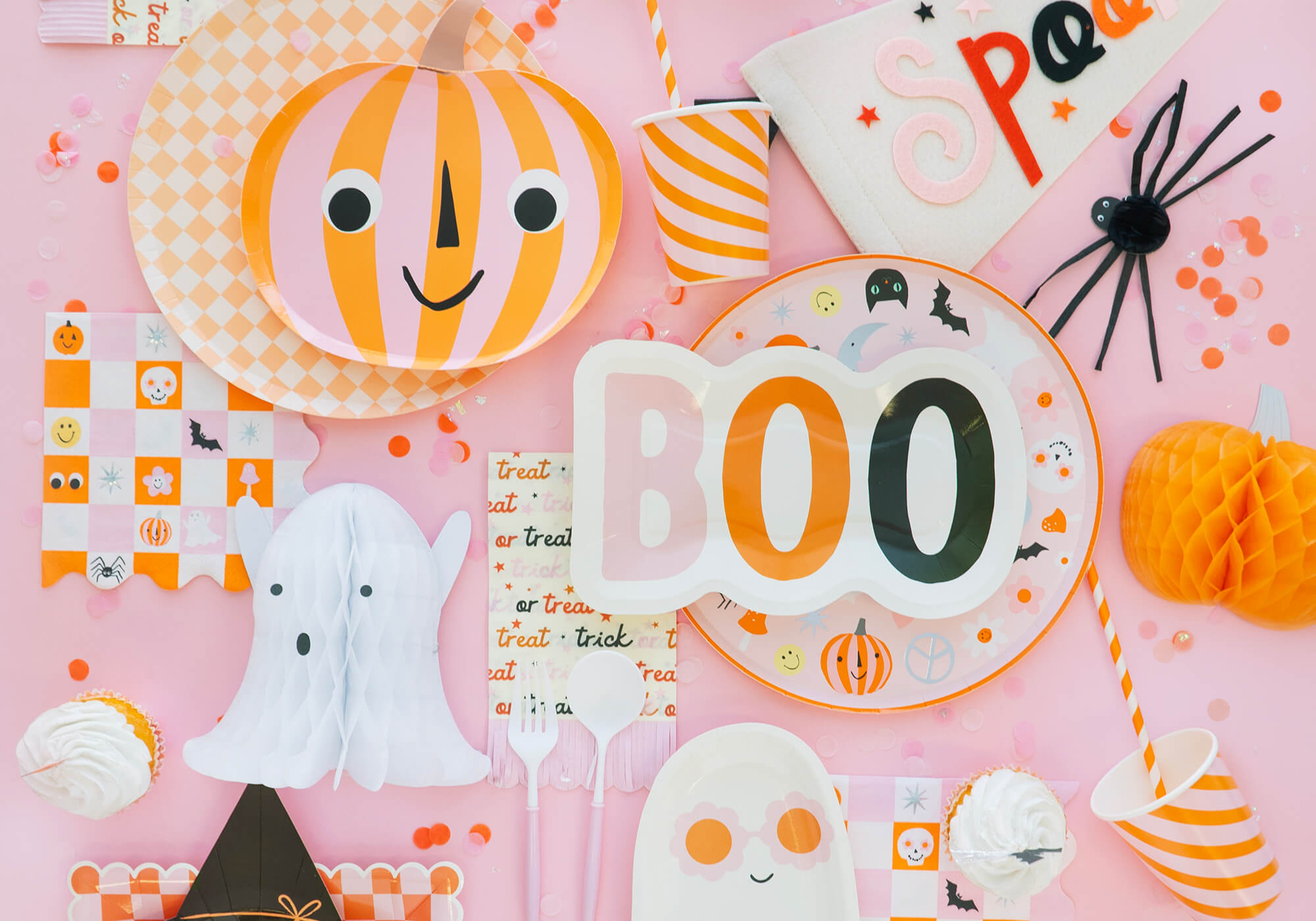 The Best Pink Halloween Party Themes
Halloween is no doubt one of our favorite holidays at Momo Party and we can't help but "pre-game" all the fun Halloween hunting & planning early this year! While a classic orange and black look is typically the go-to colors for Halloween, a pink Halloween with a touch of feminine charm has been taking the trend the past few years. Today, we're going to share some of the best pink Halloween party themes that will are scarily cute and hauntingly boo-tiful!
Hey Pumpkin
Pumpkins are probably the most iconic element when it comes to Halloween. To add the sweet touch to your Halloween bash, embrace the pink theme by incorporating pink pumpkin decorations at your party. For this "Hey Pumpkin" party look, we chose the color combination of pastel pink, blush, orange with a touch of black to create a not-so-spooky Halloween balloon garland as the backdrop. With the addition of this cute Halloween Pumpkin foil balloon and these fun balloon animal pumpkins in boho colors, it creates such a sweet and chic vibe!
For the table, use these groovy
Halloween pumpkin plates
,
napkins
and
cups
in fun pattern of stripes and checkerboard in pink and orange and accentuate the table with this Hey Boo pink and orange
confetti
. For the centerpiece, add a fall floral arrangement in coordinating colors and these adorable
pink
and
peach
honeycomb pumpkins. Lastly, dress the table with this fun pastel Halloween crepe paper streamer with iridescent accent for a touch of glamour. A whimsical pink Halloween table is now ready to go!
For the desserts and treats, you can simply decorate some store-bought cupcakes or cakes with these
Happy Halloween Cupcake Kit
that comes in with different Halloween character toppers including ghosts, skeletons, pumpkins and bats. We got a little creative and topped the cake with this adorable honeycomb pumpkin and spider from this
Halloween Honeycomb kit
. Love how it speaks to the cute "Hey Pumpkin" theme!
Trick or Treat
Trick or treat. Be so sweet. Give me something good to eat! A trick-or-treat pink Halloween bash will be a hit with the little ghouls! Create a simple yet festive backdrop with these fun balloon animals in adorable colors of coral, rose, orange, blush and pastel pink. Curl, twist, mix and match different lengths to create a whimsical and playful look. Attach small Halloween honeycomb decorations from this kit or some air-filled foil balloons like this bat balloon, ghost balloon or spider balloon to the end of the balloons for extra Halloween accents. For some frightful fun, decorate your table, wall or a candy bar with this cute pre-strung bat garland that adds a festive touch to your party without being too scary. Lastly, this adorable trick or treat party pennant will be a perfect addition to your guests' Halloween costume photo opportunity!
Creepin' it Real
Itsy bitsy spider went up the water spout… Create a giant spider web for a wow factor at your pink Halloween bash with these fun modeling balloons. Hang these adorable spider balloons from the ceiling or attach them to the wall. Set your party table with these cute Halloween icon dinner plates, pumpkin shaped napkins and these fun honeycomb cups and scatter some spider confetti for a boo-tastic time!
Ghoul Gang
A ghost themed "Ghoul Gang" Pink Halloween party will be so cute for your little girl and her gal pals! Hang this "Ghoul Gang" ghost shaped banners on the wall or along the ceiling to set a spooky cute scene for a sweet pink halloween gathering. Set an adorable pink Halloween tablescape with these ghost themed tableware including this girly ghost plate with a cute party hat on her and this set of ghost to-go cups for a fun trick or treat candy hunt at night. Hang this "Ghouls Just Wanna Have Fun" canvas flag at your front porch or this cute Ghoul Gang Spooky Felt Banner at your girl's playroom to add some spooky whimsy to your Halloween this year!
For a fun pink Halloween party activity, prepare this adorable Hey Pumpkin Bingo Game for the ghouls at the party. They're sure to get into the spooky spirit when the call out "HAUNT!" when they win!
Hocus Pocus
It's just a bunch of hocus pocus! Create a faboo-lous look for your Halloween party with all things witches but in pink! Set a fa-boo-lous scene with some witch themed balloon with pink accent like this witch hat balloon, black cat balloon and the pink haunted mansion standing balloon. Or hang this felt Hocus Pocus garland at your mantel decorated with pink honeycomb pumpkins for some photo opportunities. For the table, use these pink witch shaped plates for a chic vibe. Along with these trick or treat napkins, a stylish pink Halloween tablescape your is ready for your witches! Prepare some witch hats and Hocus Pocus Temporary Tattoos for some dress-up fun for the little witches and let the Halloween fun brew!
One Groovy Ghoul
A boho themed pink Halloween party is so on-trend right now. If your little girl's birthday is around Halloween, a "One Groovy Ghoul" pink Halloween birthday party will be so perfect for your little ghoul! Incorporate boho elements like these sunny ghost shaped plates, pink and orange checkered plates, daisy flower balloons for a fabulous 60s psychedelic vibe. Yay to a groovy Halloween!