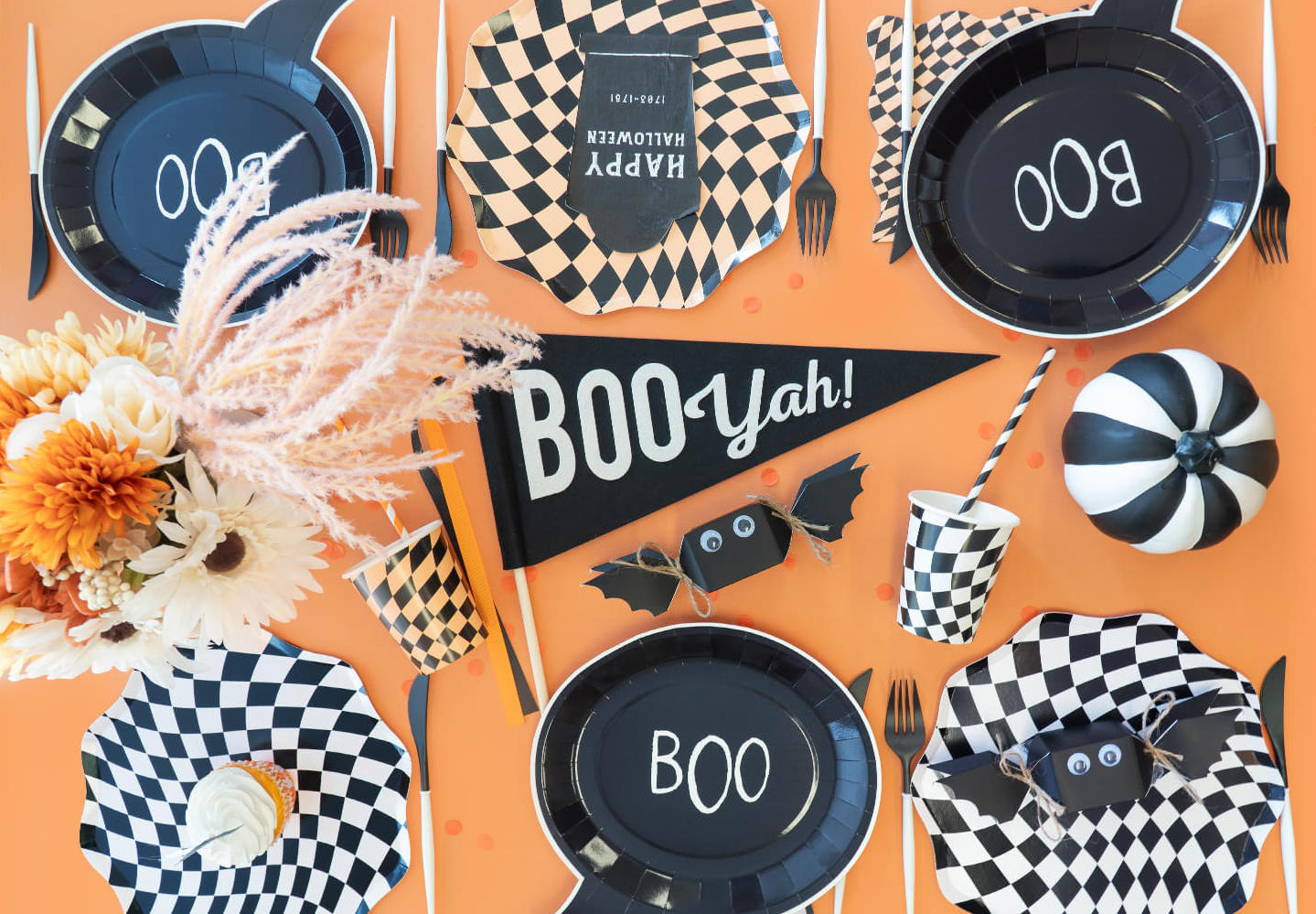 Spooky Fun: Classic Halloween Party Decoration Ideas
Hello September! It's that time of year again to whip out the orange and black decorations, carve some pumpkins, and throw an epic Halloween party for the little ghouls and goblins! If you're looking for some classic and spooky fun Halloween decoration ideas, check out this blog post for some awesome Halloween decorations that are easy to pull off and let's ready to have a ghoulishly good time this Halloween season!
Spooktacular Balloons
Kids love balloons, and they're one of the easies way to set the Halloween spooky (or not-so-spooky) scene. For the classic Halloween look, we love this set of Halloween Balloon Garland which features the traditional Halloween colors of orange, black, white and silver. With the hanging bat decorations, it will make a frightful decoration at your Halloween bash!
Speaking of Halloween balloons, you can't miss this this fun and festive long balloon backdrop from our Spooky Fun Halloween Party Box. Mix & match different lengths, curl, twist and add on this awesome Halloween honeycomb garland to make a super fun backdrop for Halloween costume photos.
Whimsy Table Setup
Dress up your party table with these awesome spiderweb table runner or this cross bone table cover for a spooky vibe. Set the table with these eerie plates, cups and napkins with a swirling checkered pattern. We love this modern take on the classic Halloween look with a 60s psychedelic vibe. Pairing with this orange, black and white pumpkin shaped plates with striking retro designs, or these black boo shaped plates and spread some of this spooky spider confetti, a scarily fun Halloween table is ready for your guests!
For additional treats (no tricks involved!), use this
Boo Bamboo Reusable Tray
and filled with your little monsters' favorite goodies. It will definitely be a hit at the party!
Ghostly Centerpiece
This set of Halloween 3D honeycomb characters will add spectacular scary decorative fun to your Halloween party table. We love using them as the centerpiece to kid's table. Featuring the favorite Halloween characters including a ghost, black cat, witch, spiders and pumpkins, these honeycombs are simply too cute to spook!
Another way to create a spooky vibe to your Halloween table is to add this Boo-yah Party Pennant to the Halloween floral arrangement as the centerpiece. We love the felt material which is perfect for a fall soriee can be used year after year!
Haunting Garlands
If you're looking for a statement Halloween decoration, hang this Happy Halloween Garland above your party table or you walls for a real wow-factor. Or set a spooktacular scene in minutes this Halloween with these orange and black tissue fan set. This tissue fan set is super easy to use and is makes a perfect decoration to the goodies table at your Halloween bash.
Lastly, you can also hang this vintage inspired "BOO" canvas banner at your front porch as the welcome sign to your neighborhood ghosts and ghouls for trick-or-treat.
Black and White Halloween
Lastly, for those who are into black and white themed Halloween decorations, you're in luck! With a little monotone twist, you can put together a fun black and white Halloween party too!
Speaking of black and white, we're love this Wednesday Addams themed Halloween party goods that arrived our shop this year. It's a look that's equal parts dark humor and peculiar fun. Perfect for a wickedly delightful Halloween night!
We hope you find these ideas helpful! These decoration ideas are not only a breeze to set up, but also bound to craft lasting memories for your little monsters! Don't forget to check out our entire Halloween Collection and get ready to turn your home into the ultimate Halloween haunt and have a ghoulishly good time this Halloween season!
Xoxo, 
Tai & Yao