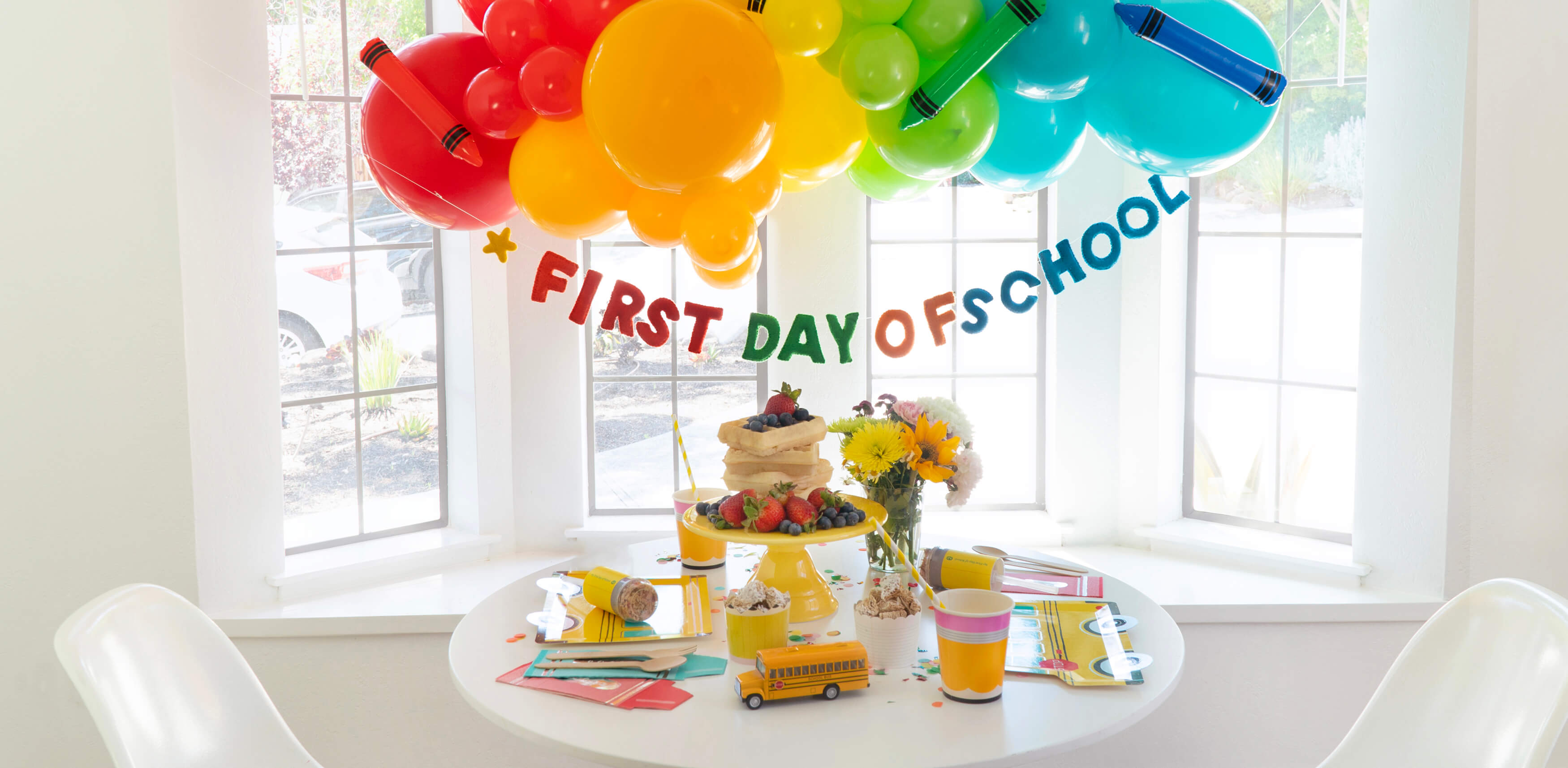 The Ultimate Guide to Kid's First Day of School Breakfast Celebration
Summer is here which means another back to school season will be here before you know it! When it comes to our kiddo's first day of school, it's a mix of emotions, but one thing's for sure: we want to kickstart their school year with a breakfast bash and set the stage for an unforgettable first day of school. So grab your venti latte and join us for these fun yet simple ideas that you can recreate at home!
Decorations
When coming up with the color scheme for a back to school celebration, it's only natural to get the inspirations from school supplies like pencils, crayons, notepads and school related elements including apples, school buses, etc. So we created a festive balloon garland featuring the classic bright colors like red, yellow, green and blue. To make it extra special, we added these mini inflatable crayons to the balloon garland and color coordinated them. With the use of glue dots, this is such a simple mom hack but definitely helps create a wow factor to the back to school celebration! To set the perfect scene, simply hang this adorable First Day of School Felt Banner underneath and viola! you now have a perfect backdrop for those cute first day of school photos!
For younger children who are attending preschool or kindergarten, this Apple Stacker Foil Balloon is simply the cutest decoration to add to your back to school celebration. You can fill it with helium to float with other back to school balloon bouquets for adorable school pictures or simply fill it with air and attach it to your balloon balloon garland.
This "School is Cool" felt garland is something special too! With adorable colors that are inspired by school pencils, this party garland can be re-used year after year and can be hung at your kid's playroom to inspire them about the fun of learning!
If you're not a fan of balloons, you can simply use some honeycomb decorations for the wall backdrop. They come in the shape of pencil and apple. Look at these rainbow pencil honeycombs, they're perfectly cheery to start the school year right!
Table Setting
Set your table or kitchen counter for a special breakfast with these adorable school themed tableware including these cute School Bus Plates, the Crayon Napkins and the Pencil Party Cups. With a dash of the Back of School Confetti, a festive first day of school is ready to delight your kids! For older kids that are in their upper grades, you can use these Art School Speckle Plates and the Notebook Napkins to create a modern look for your smart cookie. ;) For the centerpiece, create a simple floral arrangement for the table with grocery bouquets in matching colors. Lastly, don't forget these Pencil Poppers to get the party going!
We're also loving these back to school themed tableware including the pencil shaped plates, alphabet letter patterned side plates, cups, and napkins. Mix and match to create a perfect tablescape for your kid's special day!
Pair these school themed tableware with this adorable back to school party garland that features cute school supplies including scissors, glue bottles, notebooks, crayons and more. It sets a perfect scene for your child's back to school celebration!
Breakfast Food Ideas
Whip up a breakfast menu for your kiddos that's as delicious as it is fun. Pancakes or waffles are always a crowd-pleaser. To make it healthier, you can opt for fruity toppings including mixed berries, bananas, or apples with cinnamon. Create a fun yogurt parfait bar with various toppings like fruits, granola, cereals in these adorable Chalk Board Food Cups and let your kids customize their very own yogurt parfaits. We got a little creative and used this Pencil Shaped Handprint Sign and created a mini board filled with   some breakfast goodies including mini croissants, grape, muffins, apple slices. Now breakfast is ready and it's as tasty as it is Instagram-worthy!
Make it Personal!
We love this pencil shaped cake topper that comes with letter and number stickers which allow you to personalize with your child's name and grade. Simply decorate your pancakes, waffles, or any breakfast item and make your kid's first day of school extra special! 
Photo Time!
Lights, camera, party! This breakfast bash is a prime photo opportunity so be sure to capture your kids happy smiles, their creative breakfast masterpieces, and the whole festive setup! Include these simple Grade Balloons and the First Day of School Party Pennant to mark the milestone of the first day of school and share these sweet memories with family and friends.
Lunchbox Notes
Last but not least, add a personal touch to your child's lunchbox with these adorable scratch-off lunchbox notes. Simply write your own special handwritten message in the designated area, cover it with the scratch-off sticker provided, and scratch to reveal your hidden message! Include words of encouragement, funny jokes, or even small riddles to make your kiddo's lunchtime more enjoyable.
Fellow moms, we hope these ideas are helpful! With these fun and easy ideas, making your child's first day of school memorable is just as simple! Don't forget to check out our Back to School Collection for these fun party supplies. Party on!
Xoxo,
Tai & Yao
The Best Fourth of July Party Decor Ideas
Looking to throw the ultimate 4th of July bash? Look no further! In this blog post, we've got you covered with a roundup of fantastic party ideas to make your Independence Day celebration a blast. ...
Read more