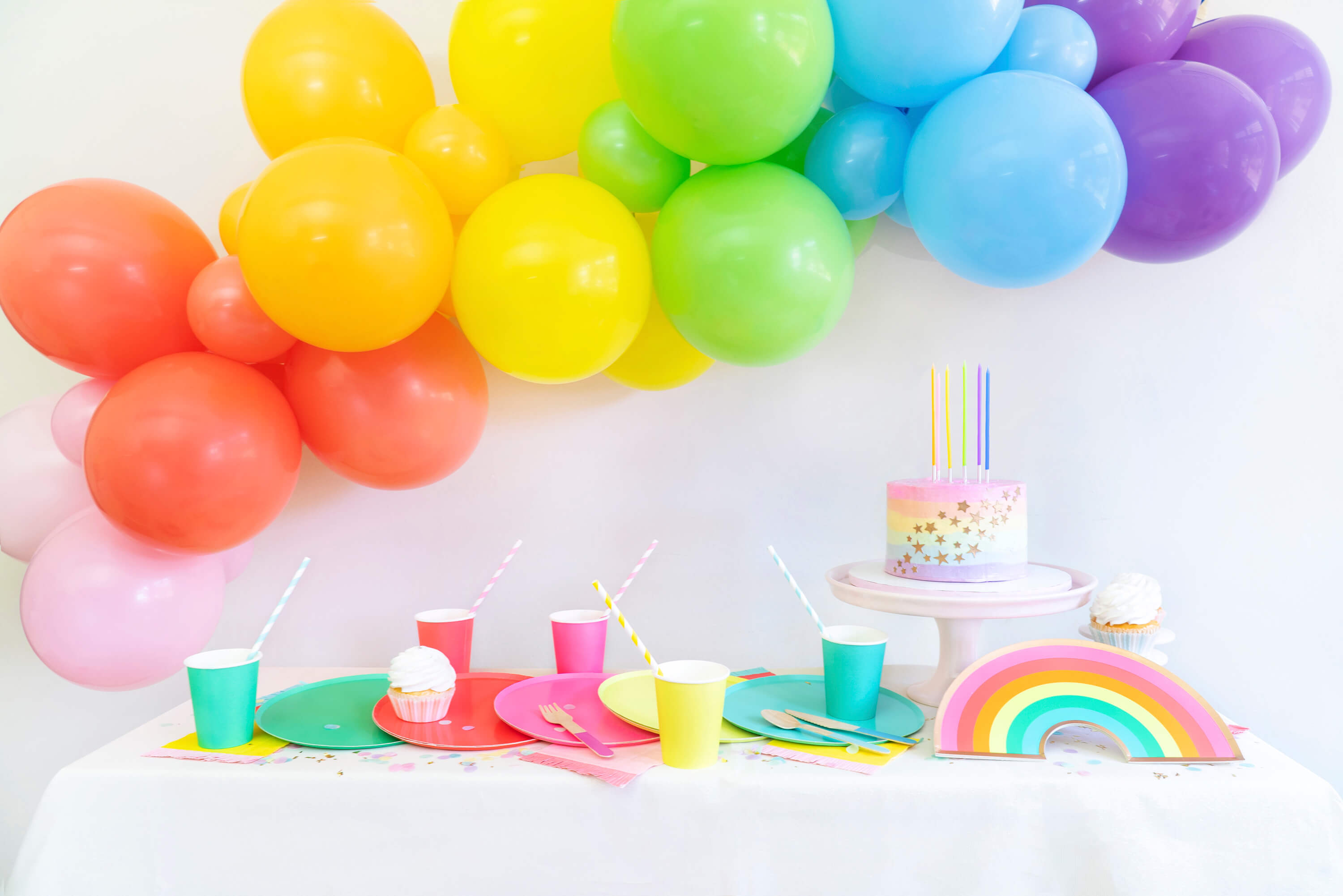 Rainbows bring so much joy! Especially given the circumstances this year, we can definitely use some good vibes in our lives! Today, we're going to share some very simple ideas on planning a rainbow themed celebration at home. Whether you're throwing a birthday party for your little one, celebrating Pride, or just because… make sure you read on for these party ideas and tips!
Decorations 
A rainbow themed party is probably one of the most straight forward themes when it comes to color palette since there are so many colors that you can work with! While keeping the colorful and cheery vibes, we wanted to give it a modern/chic twist by using more of a pastel and neon color tone so the colors feels more airy/bright vs. heavy/dark. We created a simple yet unique backdrop using our rainbow balloon cloud kit and it really brought the theme to life! These balloon clouds last for weeks so you can always hang them in the little one's bedroom after the party to brighten these quarantine days!
Alternatively, you can just blow up any of these large rainbow foil balloons,  our junior rainbow themed balloons or this fun Jelli number balloon from our Rainbow Collection as easy decorations to your party at home.
And… if you're feeling extra crafty, making a pretty rainbow with twisting balloons and small white latex balloons can also be a super cute balloon decoration. We absolutely love how it turned out! 
Lastly, don't forget to make it personal! This set of multi-color banner is perfect to create personalized message at your celebration. It comes with all the alphabets and symbols and is totally re-usable for celebrations all year round!
Tabelware
We absolutely love these rainbow tabletops including the rainbow plates, colorful round plates and cups designed by Oh Happy Day team. They're simply beautiful and modern which work great for both kids and adults. Pair them with these cheery hip hip hooray napkins, a festive table party is ready to go!
This rainbow ombre disco ball tumbler is simply amazing. It brings so much fun to the party table with all the pastel confetti around!
Snacks and Sweets 
Just like decorations, there are so many possibilities with rainbow themed snacks and foods because the wide range of colors! For simple snacks at home, fruit kebabs and veggie dips arranged in rainbow colors are fun a healthy for the little ones which we highly recommend!
Whether you're baking a birthday cake yourself or getting one from your local grocery store, using these rainbow inspired cake toppers and candles to decorate your cake can definitely easily bring the rainbow theme to life without all the hassle!
Activity Ideas
For at-home activities with the little ones, create a rainbow painting with Froot Loops or make at-home face painting with these non-toxic rainbow-unicorn temporary tattoos to let your little one feel extra special on their big day. Oh and don't forget this amazing rainbow headband to let everyone know it's their birthday! 
We hope you like today's post. Don't forget to check out our Rainbow Collection for all the supplies and decorations. Until next time!
Xoxo,
Tai & Yao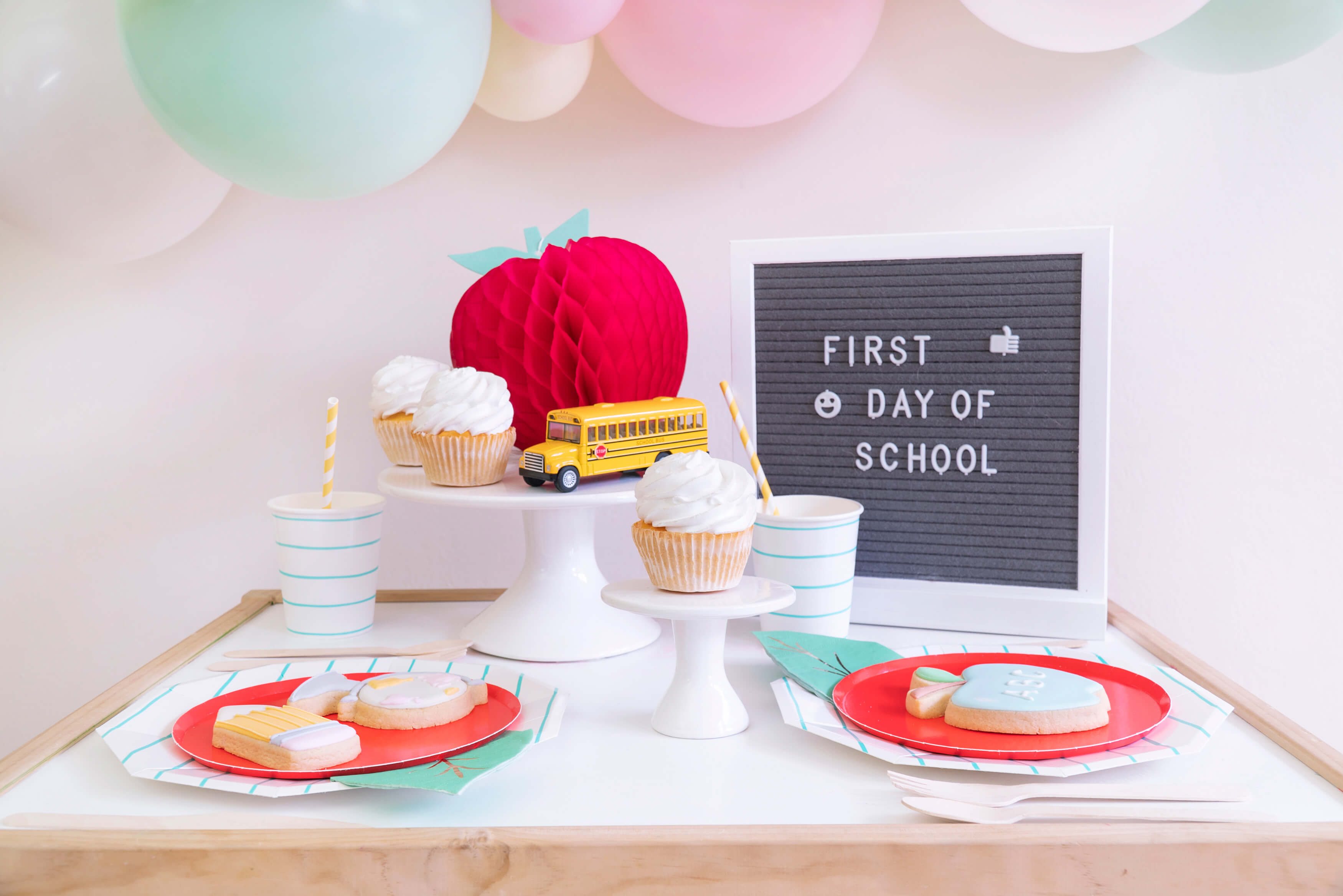 Planning a back to school party for your kid at home? Then you don't want to miss these easy part ideas including decorations, foods, and activities for a fun first day of school celebration!
Read more