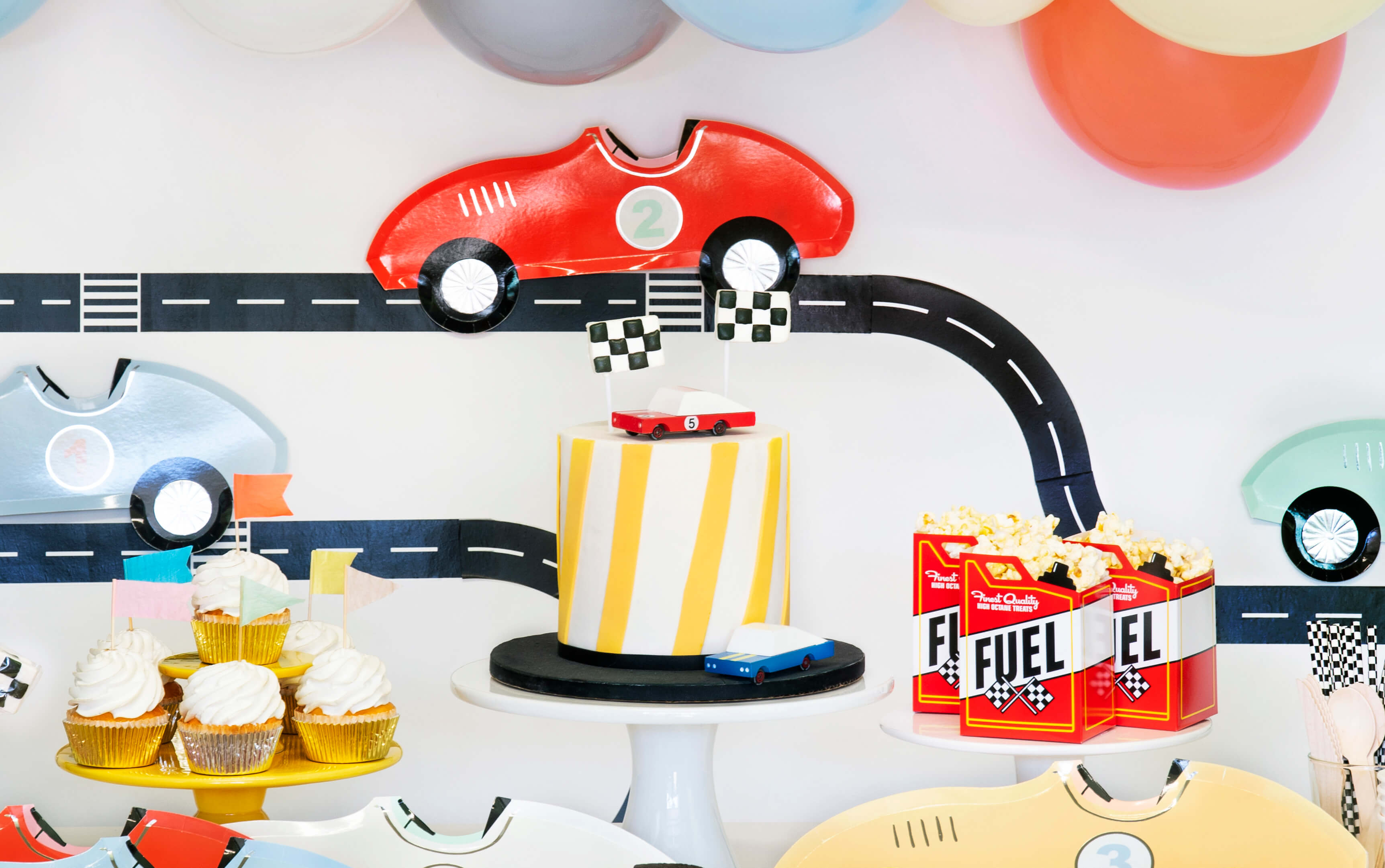 Modern Race Car Party Ideas
Have a little one at home who's absolutely into cars? Tell us about it! Both Yao and my son LOVE cars, trucks and basically everything that moves! There's just something about the boys and cars… Who else can relate?
So today we're beyond excited to share some awesome ideas on planning for a car themed celebration! Read on since there are so many good ideas that you don't want to miss out! 
Colors 
At Momo Party, we love a modern kid's party so when we see these amazing vintage race car plates by Meri Meri, it gave us all the inspirations around this race car party look. While keeping the traditional car party color scheme of red, black, blue in mind, we put a modern twist by using coral, light blue and light yellow with silver accent. These colors are simply festive yet chic! With the matching race car napkins, cups and this trophy shaped tumbler, your little racer will surely love it! 
Since the theme is race car, a checkerboard flag is no doubt essential. The monochrome race car flag works perfectly with the overall color scheme so don't hesitate to pepper in some black and white element throughout the decorations. We love this line of Check It! Tableware in black and white which comes with plates and napkins. They will look perfect for your race car themed tablescape!
Vroom Baby Vroom!
Bring your race car theme alive with these colorful balloon garland and checkerboard foil balloons based on the modern car color scheme above!  Then all you need to do is to add this awesome black letter banner and voila, an adorable yet simple race car themed backdrop is done!
We also love this amazing Race Car Garland Set that features vintage race cars, silver trophy and race car checkered flag pennants in adorable soft colors. Simply hang it in the room to set a fun race car scene!
Two Fast
If you have a toddler who is turning two and is in love with anything with wheels, a 'Two Fast' car themed 2nd birthday party is just perfect! Make it extra special by adding this amazing gold glittered number candle and this race car candle set to your handmade cake or store-bought cake. How cute is it for your little toddler to make a wish with these fun candles?!
To bring the fun to the next level, blow up this giant number balloon and simply decorate it with white paper tapes. It's such a simple way to mark that big milestone on your little one's special day!
Speedway Fun
If your little ones are all about race cars, why not bring the racetrack to the party? Create a rad backdrop easily with our road tape set! Simply peel and stick it to the surface to create instant roads anywhere anytime. Perfect for wall decorations in your little one's bedroom too! With cars and trucks, it also makes great everyday activity in their playroom. We guarantee, it will keep those little hands busy for hours!
Activities 
Planning for a summer party? This giant tire tube is not only great for a pool activity* but also perfect as a decoration! Or simply let the younger ones roll them around in the backyard and have endless fun!
Snacks and Sweets 
There are so many elements to play with when it comes to car themed snacks and desserts! Think of tires, race flags, fuel tanks, trophies... the sky is the limit!  If you don't have time to shop around for snacks or sweets, simply use some of the themed cake toppers and our race cars cupcake kit to decorate your cakes or cupcakes. Or use these race car stickers to decorate your popcorn boxes. It's as much fun! 
Last but not least, we absolutely love these fuel treat boxes! Simply put some popcorn, treats or snacks, it's ready to fuel up those little guests' empty belly!
We hope you love these ideas! Don't forget to check out our Car Collection for all the supplies that your little driver will love! 
Until next time!
Xoxo,
Tai & Yao