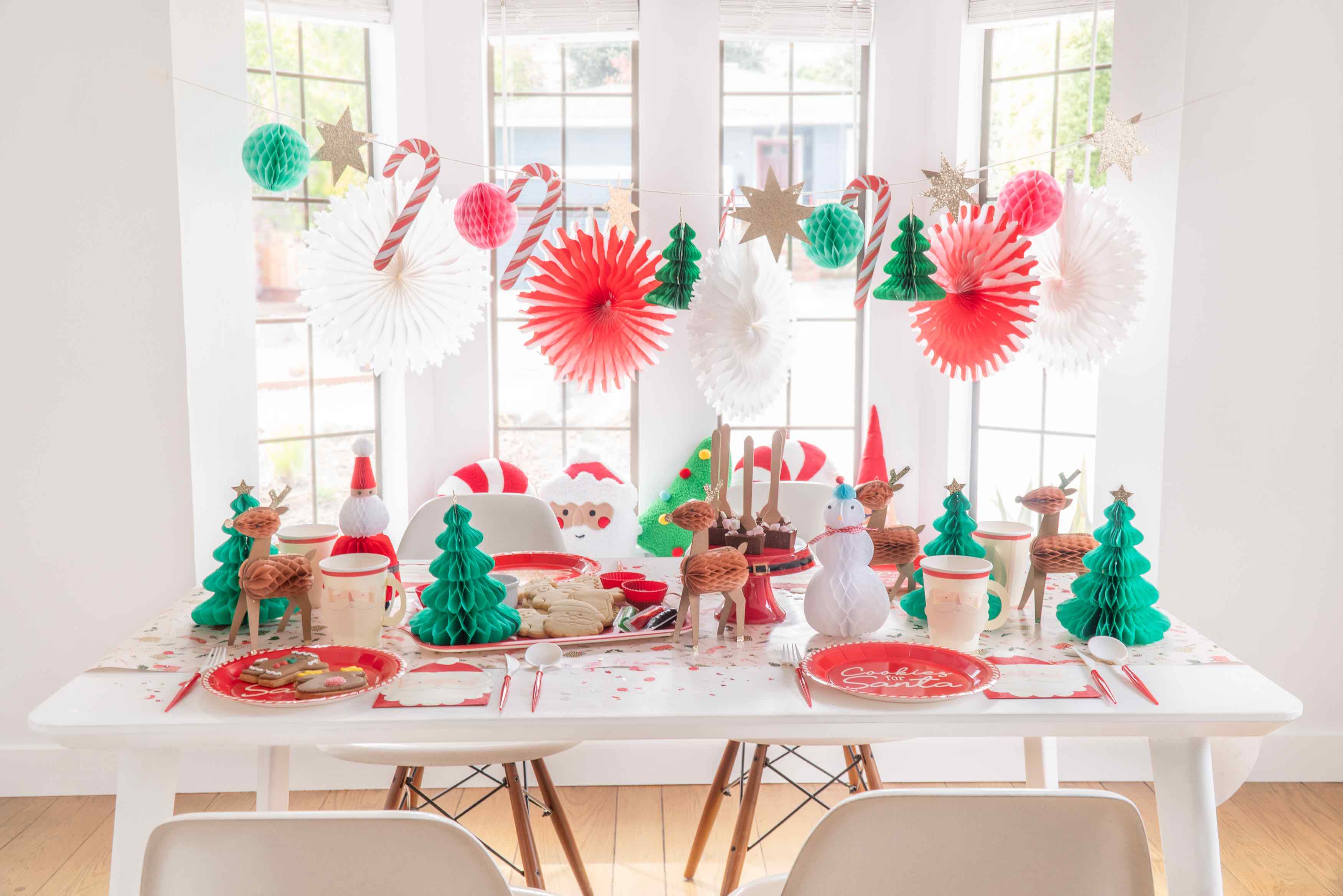 How to host a Christmas cookie decorating party for kids
'Tis the season for joy, love, and a whole lot of sprinkles! Holidays are a magical time for kids, and what better way to celebrate than with a Christmas cookie decorating party with their closet pals? I recently hosted a Christmas cookie decorating playdate for my kid and his friends at our home and it was oh-so-fun! Join me as I share the adorable decorations, simple tips and easy-to-implement party ideas from our festive playdate.
Setting the Stage
Our dining room was transformed into a holiday haven with this stunning Christmas Honeycomb Garland hung over our bay windows. I adore the simplicity this garland set brings to holiday decorations. This festive garland set creates a wow factor to the party and features all the iconic Christmas elements including Christmas trees, peppermints, candy canes and shining stars. Setting the holiday scene was a breeze, accomplished in just a couple of minutes! I also prepared some Holiday pillows for the bench as a lounge area while they eagerly awaited the cookies. Along with the garland, this cozy corner became the perfect spot to capture the joyous moments of our cookie-filled playdate!
Showing off the Holiday Spirit
To add some joyful spirit to this festive gathering, I also prepared some adorable Holiday Temporary Tattoos. Each sheet comes with 18 festive designs including Santa, presents, gingerbread house, snowman, reindeer, etc. which was plenty for the crew.
The Table Setting
For the party table, these "Cookies for Santa" round plates were just the perfect size for little hands to decorate their cookies. I also prepared these reusable red and white cutlery sets, which came in handy as the kiddos decorated their cookies. Instead of handing out standard napkins, these Santa-shaped napkins were great for wiping off the sprinkles and frosting from little mouths! I decorated the center of the table with this adorable set of Honeycomb Christmas Characters featuring Santa and reindeers, a snowman, and Christmas trees. They looked so cute on this pink Christmas Wishes Table Runner.
The centerpiece of our playdate, undoubtedly, was the cookies! I picked up a cookie decorating kit from the store and arranged a variety of blank cookies, featuring gingerbread men, reindeers, Santa, and snowmen. The pre-baked cookies, along with the decorating sprinkles and icing tubes, were displayed on a festive Holly Jolly Bamboo Tray—a perfect size to hold all the goodies for our merry gathering. Given the young age of the kids, I came across a useful hack online. I placed a dollop of white frosting on each child's plate, allowing them to use their own knife for decorating. This not only eliminated the need for sharing a can or bag of frosting but also helped avoid unnecessary mess and the risk of spreading any flu bugs!
Hot Cocoa Time
What's better to pair with our sweet treats than hot cocoa? I set up a cute hot cocoa station featuring these Santa Cups with Handles, hot cocoa stirring spoons, marshmallows, and warm milk. It's the perfect way to warm up after our cookie decorating flurry!
As the last cookie was decorated, and the giggles began to subside, I couldn't help but revel in the sweetness of the memories we had created. The simplicity of the gathering made it not only enjoyable for the kids but also a stress-free experience for me as a host. So there you have it—a snapshot of our oh-so-fun and easy Christmas cookie decorating playdate. May your holiday season be filled with laughter, love, and, of course, a whole lot of sprinkles! Don't forget to check out our Christmas Collection for these fun and festive party goods. Until next time!
Xoxo,
Tai