Article: Building Sweet Dreams: A Kid's Gingerbread House Sleepover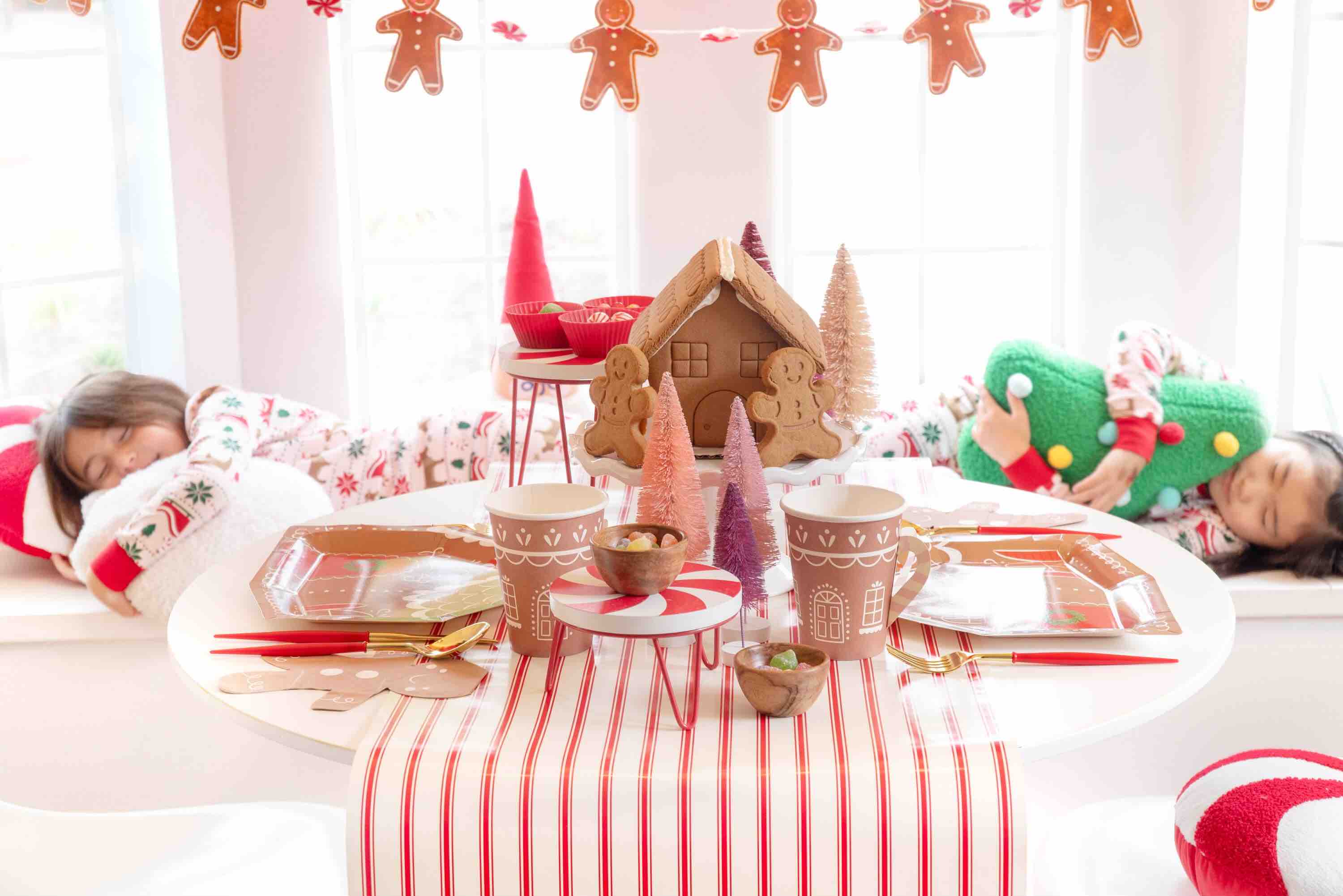 Building Sweet Dreams: A Kid's Gingerbread House Sleepover
Hosting a fun gingerbread house party for your little one this holiday season? Come along to get inspired for all things gingerbread and in red, pink, and lots of festive decor with candy cane touches for a magical Holiday celebration!
I recently hosted a gingerbread house-building sleepover with my BFFs and their girls to celebrate the most wonderful time of the year, and it was purely magical! Today, I'm excited to share all these fun ideas that you can easily implement at home.
Setting a Festive Scene
I created this cozy spot with a bunch of pillows next to our bay window, making it the perfect chill zone for the little gingerbread builders to let their creative juices flow. Then, I put together a fun gingerbread-themed balloon garland, jazzed up with candy cane pennants for that extra holiday vibe. Right under the balloons, I hung this adorable Puffy Gingerbread Man Felt Banner to complete the scene. And guess what? I'm really loving how everything came together. It's just giving off this warm and festive vibe that's putting a big ol' smile on my face.
A Sweet Tablescape
Next, onto the table! The table was adorned with this festive red and white striped runner. Simple yet chic! The place setting had these whimsical Gingerbread House Shaped Plates paired with these Gingerbread Man Napkins. At each place setting, I had these matching Gingerbread Party Cups, along with the Red and Gold Cutlery Set which added the festive touch to the table. To carry out the Holiday theme, I set up some bottle brush Christmas trees in different shades of pink surrounding the big gingerbread house centerpiece. This delightful table is now ready to create memories as sweet as the treats that inspired it. It's the perfect setting for festive feasts and joyous celebrations!
Gingerbread House
I prepared each girl their very own mini gingerbread house to build. As these required some adult's help, I used this handy Holly Jolly Bamboo Tray to hold the gingerbread cookies as I passed them the pieces. In the middle, there's also a larger pre-built gingerbread house that was just for the fun of decorating in case the assembling turned out to be too complex for the girls. On the table, I prepared a colorful array of icing, gumdrops, candy canes, chocolate chips, and an assortment of sprinkles and set them on these whimsical peppermint cake stands. The girls had such a blast transforming their gingerbread structures into candy-covered dream houses!
Holiday Movie & Hot Cocoa
After sunset and the gingerbread houses were constructed, I gathered everyone around the TV with blankets and pillows. We watched the Polar Express movie in our PJs while sipping hot cocoa with these cute Gingerbread Man Cups. What a fun night to remember!
The next morning, we woke up to the sweet smell of gingerbread in the air and the memories of a night well spent. And guess what? We had breakfast with more gingerbread pancakes, continuing the theme into the morning! The girls were sent home with their gingerbread houses and hearts full of holiday joy.
I hope you like today's post and find it inspiring for some fun Holiday activities for your little ones. You can find these adorable decorations and partyware in our Gingerbread & Candy Cane Collection. Sending Holiday wishes and gingerbread kisses your way. Until next time!
Xoxo,
Tai