Article: "Groove One" Girl's First Birthday Party Ideas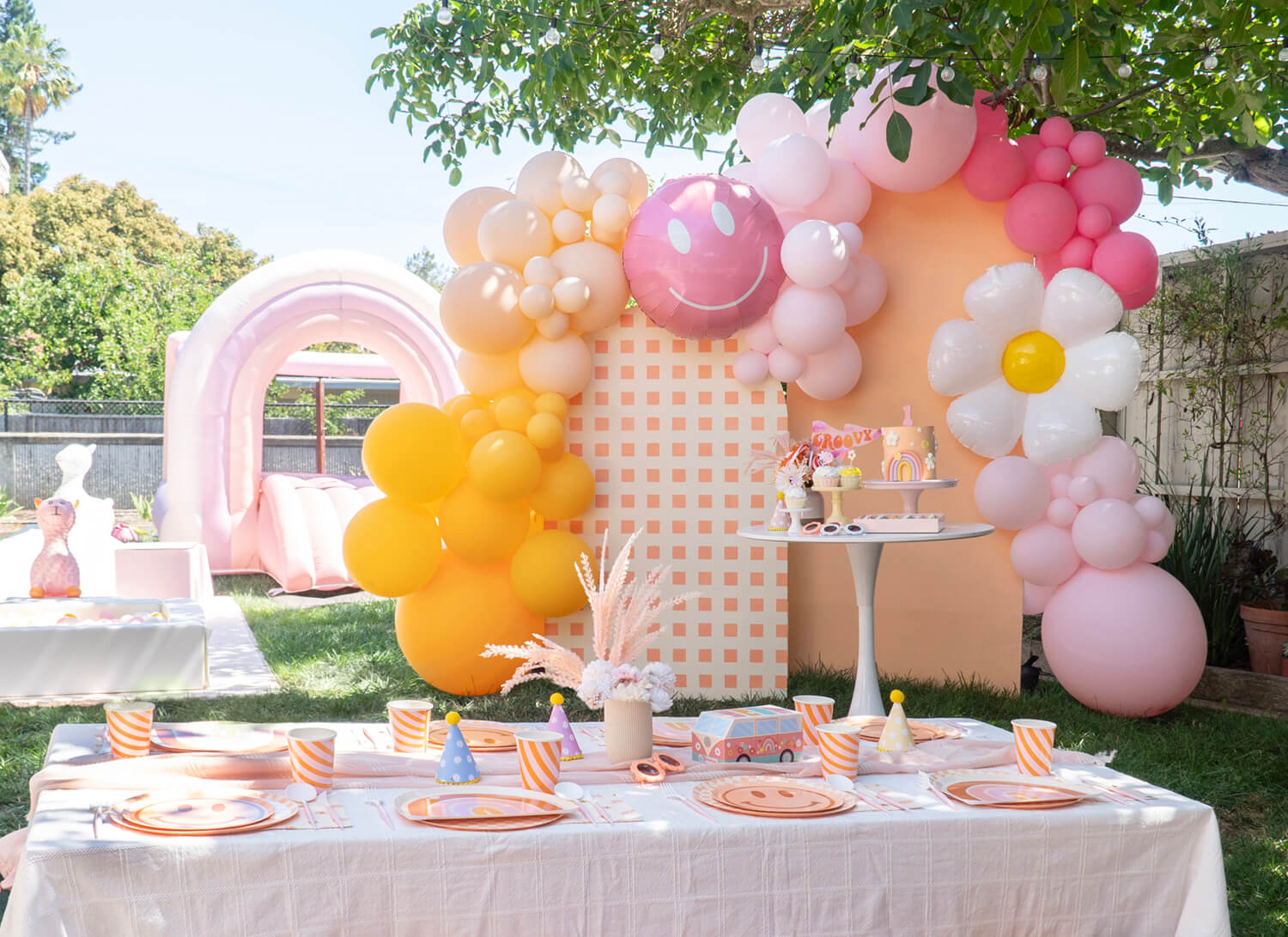 "Groove One" Girl's First Birthday Party Ideas
Hey there, party lovers! As a mom who lives for celebrating life's special moments, I have been planning my daughter, Zoe's, first birthday ever since I was pregnant with this baby girl! Before Zoe, we've never really gotten a chance to plan for a girl's birthday party so I was over the moon about the opportunity to unleash my inner flower child and throw her a "Groove One" themed extravaganza for her very first birthday. Today, I'm thrilled to invite you along on a whimsical journey through this incredibly fun and utterly adorable celebration that's bound to be like no other you've ever seen!
Setting the Scene
We transformed backyard into a groovy paradise with this cheerful backdrop that was decorated with a balloon garland featuring a delightful mix of boho-inspired colors. These adorable balloons, including a beaming smiley face balloon and a darling daisy balloon, was an instant mood-lifter! It was a way of showing just how pumped and excited we were to spread happiness and joy on Zoe's special day. I absolutely love how it turned out!
Table Setting
This "Groovy One" party table setting is a kaleidoscope of joy. With these groovy Peach Checkered Dinner Plates layered with these Boho Rainbow Plates and these cute Love and Peace Smiley Face Plates, it brings so much cheer to the table! The cups were with retro orange and pink stripe patterns, and the Rainbow Napkins, adorned with sun and sunflower designs in a soft blush hue, added a gentle and sweet touch to my baby girl's first birthday celebration. As for the centerpiece, I arranged a boho-inspired fall bouquet, surrounded by coordinating Rainbow Party Pennants featuring sunflowers, suns, and rainbows. I also prepared these Retro Daisy Party Hats in four different colors for our little guests to show off their good vibes in true '60s style. It's a table that practically beams with happiness, just waiting to welcome our guests!
Groovy Treats
One of my absolute favorite design elements from Zoe's first birthday celebration had to be her stunning birthday cakes. The talented Lilian from @leaux_and_bloom worked her magic, crafting these delightful cakes adorned with the most adorable rainbows, sunflowers, and smiley faces, all in the softest, blush-hued palette. This birthday cake topped with the sunflower candles was a truly perfect touch for my little one's special day. To complement the cakes, I also prepared a delectable array of cupcakes and Brazilian brigadeiros, each adorned with charming sunflower decorations. With the addition of a vibrant and playful Groovy Party Pennant, our "Groovy One" dessert table couldn't have been more fitting for my baby girl's big day!
Entertainment
What stole the spotlight that day? None other than a mini ball pit and a charming boho rainbow bounce house! Surprisingly, a little corner filled with soft toys turned out to be a hit with both young and young-at-heart guests. The little ones, from babies to kiddos, reveled in the fun! But the real showstopper was Zoe herself, who absolutely aced her "Groovy One" cake smash – frosting flying everywhere! Just take a peek at that adorably messy face. It was a heart-melting cuteness explosion!
Party Favors
We simply couldn't bid farewell to our groovy guests without a little something to remember the day by. I fashioned an adorable corner, featuring a standout "Groovy One" foil balloon and a whimsical display of sunflower latex balloons adorning the wall. Upcycling a kid's old bookshelf, I transformed it into a cheerful party favor station, stocked with playful Smiley Face Latex Balloons and these cute hippie VW bus-shaped treat boxes, each brimming with delightful party favors and goodies. With the cream number one foil balloon, it was also a perfect backdrop for capturing sweet moments with our lovely guests through fun and fabulous photos!
Zoe's "Groove One" themed first birthday was an absolute blast – a day filled with laughter, love, and some seriously far-out vibes. It celebrated not just her first year of life but the wild and wonderful adventure of parenthood. I hope you like today's post! For more groovy themed party supplies, don't forget to check out our "Groovy Vibes" Collection at momoparty.com!
Party on!
Xoxo,
Yao