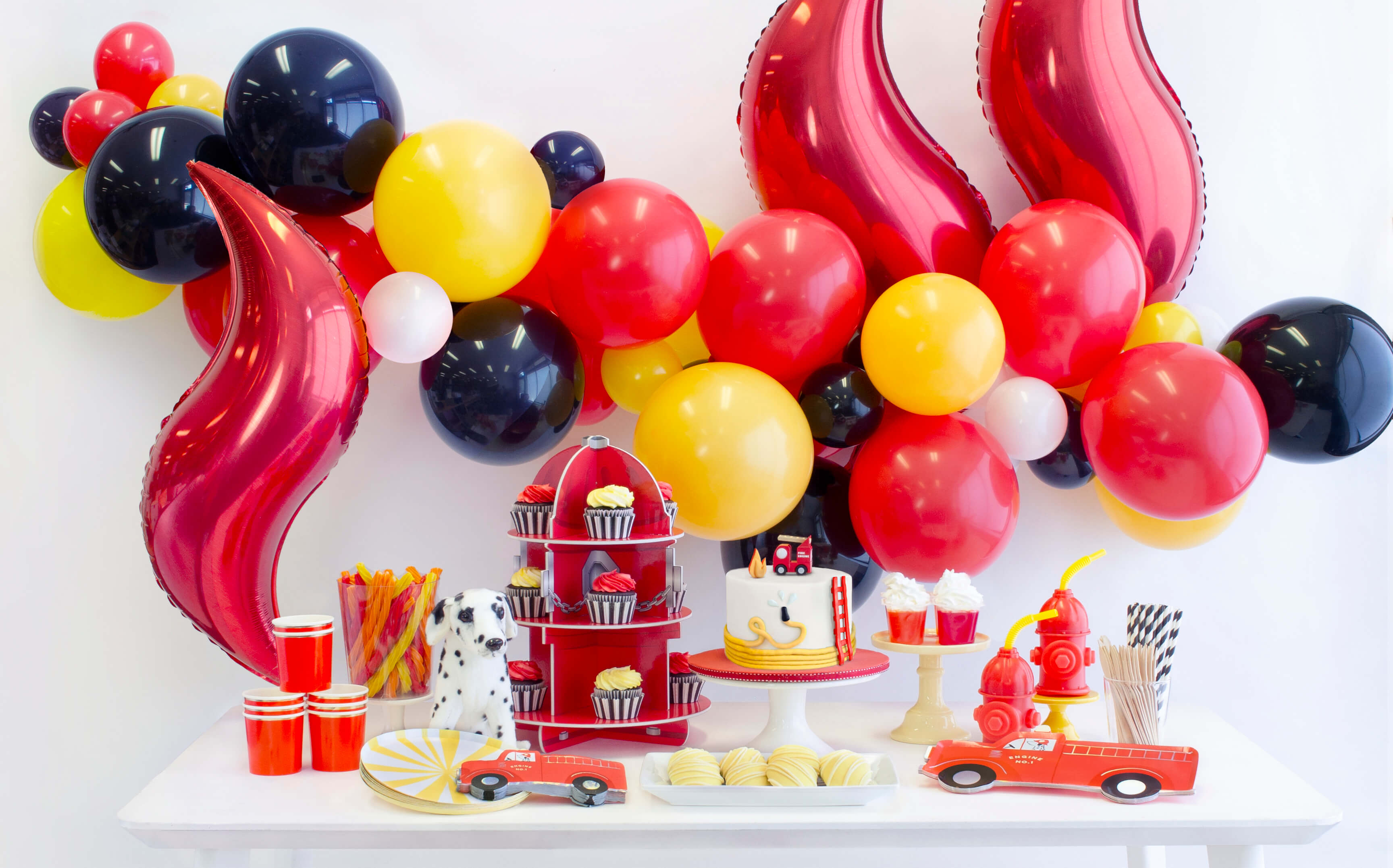 Best Fire Truck Themed Birthday Party Ideas for Kids
Sound the alarm! It's time for a blazing hot fire truck themed birthday party!
Is your little toddler or pre-school kid a big fan of all things firefighters, fire stations and fire engines? Read on today's post for these fun yet super easy party ideas that are inspired by fire, lights, sirens, horns, hoses and more! These fun and unique ideas are perfect to celebrate your kid's fire truck themed birthday party.
Fire Truck Party Color Palette
The first color that comes to mind for a fire truck themed party is definitely the classic fire engine red. With a combination of yellow, orange and black which represent flames and the truck wheels. However, we intentionally put a modern twist by using a lighter, more pale shade of yellow for it to look little soft and chic. This adorable color palette is perfect for a baby's first birthday celebration or a toddler's 2nd birthday party that surrounds the fire truck theme. We also love adding a pop of gold with this gorgeous gold tinsel fringe garland which creates a stylish and chic look.
Flame Inspired Balloon Decor
The color combination of black, red, goldenrod and white for the fire truck themed balloon cloud gives it a modern yet fun look. With these burning red curve shaped foil balloons which represent the flames, this "fire scene" inspired creates an awesome party backdrop for kids who love fire fighters/fire trucks and really gets them excited!
"Nee-naw! Nee-naw! Fire fighters coming in!" It works perfectly with this adorable fire truck shaped foil balloon coming in for rescue! This easy balloon decoration transforms any room to a fun, colorful, and creative space for your little fire fighter to enjoy.
Personalized Firefighter Party
We're fans of personalized party supplies and decorations since it makes kids birthday party so unique and special. An easy way to make a statement in your little fighter's birthday party is to use this Red Letter Banner. You can easily put a happy birthday message with your kid's name spelled out or any fireman themed phrases, like "Sound the Alarm" or "Nee-naw! Nee-naw!" to make it more fun for your fire truck themed celebration!
Adorable Fire Engine Tableware
These fire truck shaped plates and napkins are simply perfect for a fireman themed party. The bright color of red with shiny silver holographic foil and the cute illustration of a Dalmatian puppy make these tableware incredibly adorable and stylish.
These fun tumblers in the shape of a fire hydrate are sized perfectly for kids and will surely be a hit at your little one's fire truck party.
Fire Station Inspired Party Treats
Yellow, orange and red themed party treats are perfect for a fire fighter themed party. We used store-bought cupcake and placed them on this cool fire hydrant cupcake stand. Other simple treats like red, orange or yellow Twizzlers and jello cups will be great additions to your fire truck themed party table.
A Real Fire Truck Ride
A great way to make a fire truck themed party come to life is to have a real full size fire truck ride that cruises around the neighborhood. With the fire engine equipped with all kinds of lights, sirens, horns, hoses and fire equipments, this will definitely make your little fire fighter's party unforgettable!
For more fire truck themed party supplies, check out our

Fire Truck Collection

.