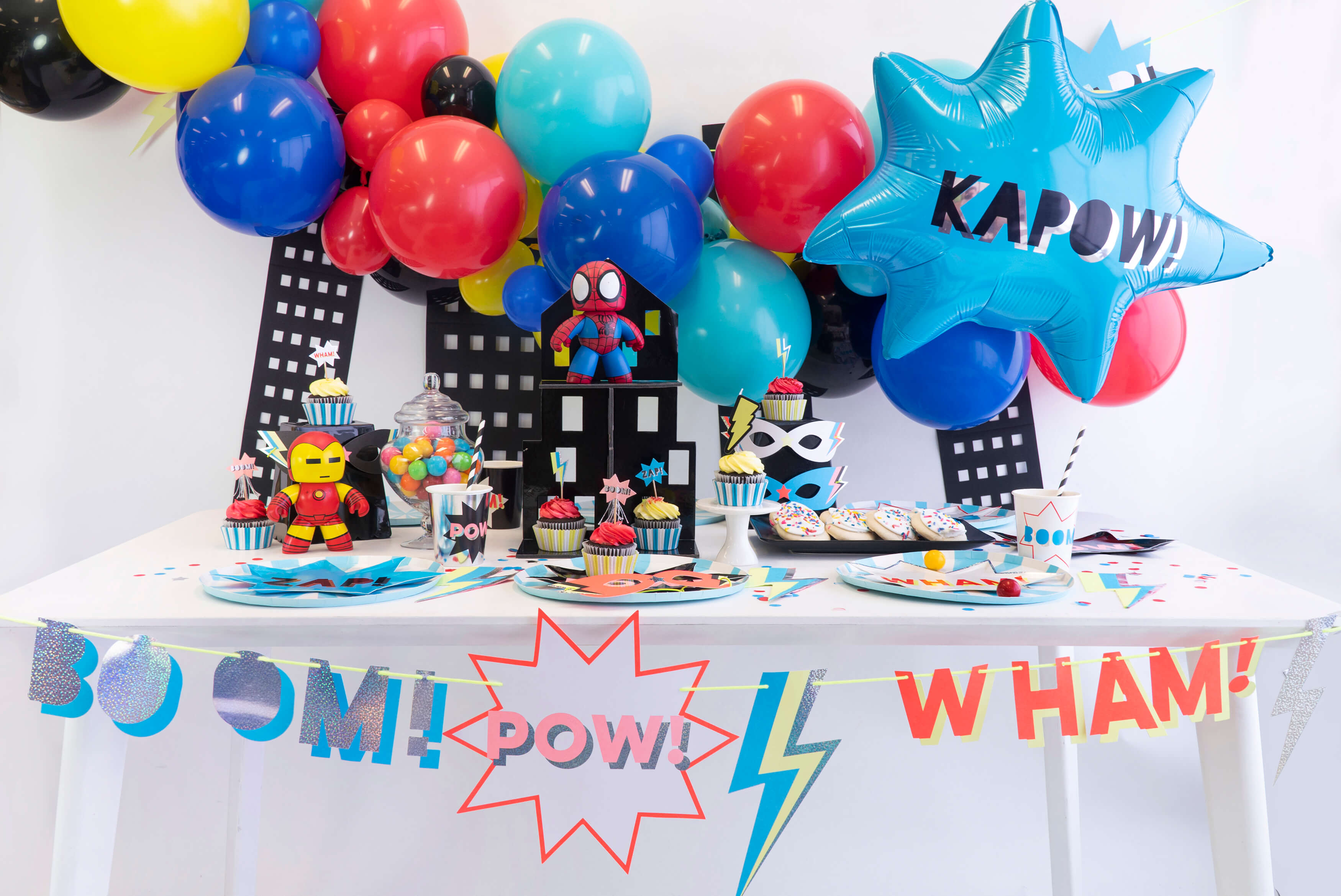 Easy Superhero Birthday Party Ideas for Kids
Boom! Pow! Wham! Zap! It's time for a SUPER DUPER superhero party powered by action-packed ideas that your kid will love! 

Is your kid at an age where they're all about superheroes? Whether your kiddo is into Spiderman, Superman, Batman, or Captain America (the superhero list goes on and on!), read on today's post for these unique and easy superhero party ideas that you can simply recreate at your home to celebrate with your little superhero in training!
Superhero Party Color Palette 
Since each superhero character has a color that represents them, a bright and bold multi-color palette of blue, yellow, red and black with a hint of metallic, i.e. silver would work perfectly for a fun superhero party. To add a little touch of modern, we love the idea of introducing the color of aqua blue and volt to achieve a unique color tone.
City Landscape Backdrop
Each superhero has his own city to save! So a city landscape backdrop for a superhero party is a no brainer. This Superhero Garland that can transform any wall to an awesome city skyline is truly the best! The set comes in 2 pre-strung garlands, one with the giant paper cutout of the city skyline that's adjustable; the other comes fun phrases of "Boom!, Pow, Wham! and Zap!" It really helps busy moms set the superhero scene in minutes!
We also love this cool city skyscraper cupcake holder that stands 41 inches! A pro-tip, you can adjust the height be simply using 1 or 2 less tiers if you have a smaller party table. Along with cupcakes decorated with this superhero cupcake kit featuring cupcake toppers with bright colors and embellishments, this cupcake station will definitely be a hit at the party!
Superhero Wall Decal 
Another way that you can easily set a scene for a superhero party is to decorate your wall with these awesome vinyl decals featuring superhero masks and lightning bolt. These are perfect superhero party decoration especially for a little Batman fan! Create a stunning superhero backdrop effortlessly behind the cake table together with one of our superhero balloon garlands. Best thing is, it can be reused in your kid's room or playroom, so the magic stays beyond the party day!
Superhero Balloons
If your kid love all kinds of superhero characters, this bright starburst shaped foil balloon with "KAPOW!" on it sets a perfect scene for an action packed superhero bash. We also love this lightning bolt shaped foil balloon which gives a simple and modern look to a superhero party. And if your kid is into Marvel or DC superheroes like Superman, Wonder Woman, Captain America, Spiderman, Batman, Black Panther our Superhero Collection is full of these fun party balloons!
Superhero Themed Tableware
Create an action packed superhero tablescape with these starburst shaped plates and matching party cups with powerful message of "Zap", "Wham", "Pow" and "Boom."  Along with these super duper awesome lightning bolt napkins which add a touch of electricity, it gives all the superpower that your little superheroes need!
Cake Decoration
If you're a busy mama like us and don't have time to bake for a birthday party, this set of superhero city skyscraper cake toppers give superpower to a store-bought cake! You can even bring your cake to the next level using these superhero themed nut free, dairy free, gluten free edible stickers for cake decoration. Lastly, let your little super hero make a powerful wish with these fun superhero birthday candles!
Superhero Dress-up & Tattoo Station 
A superhero party isn't complete without a fun dress-up activity! Prepare these superhero masks or superhero photo props, along with some capes for your little guests to enjoy. Set up a fun superhero tattoo station with these superhero temporary tattoos or face stickers. It will surely be a hit at the party!
For more superhero themed party supplies, don't forget to check out our Superhero Collection. Until next time!