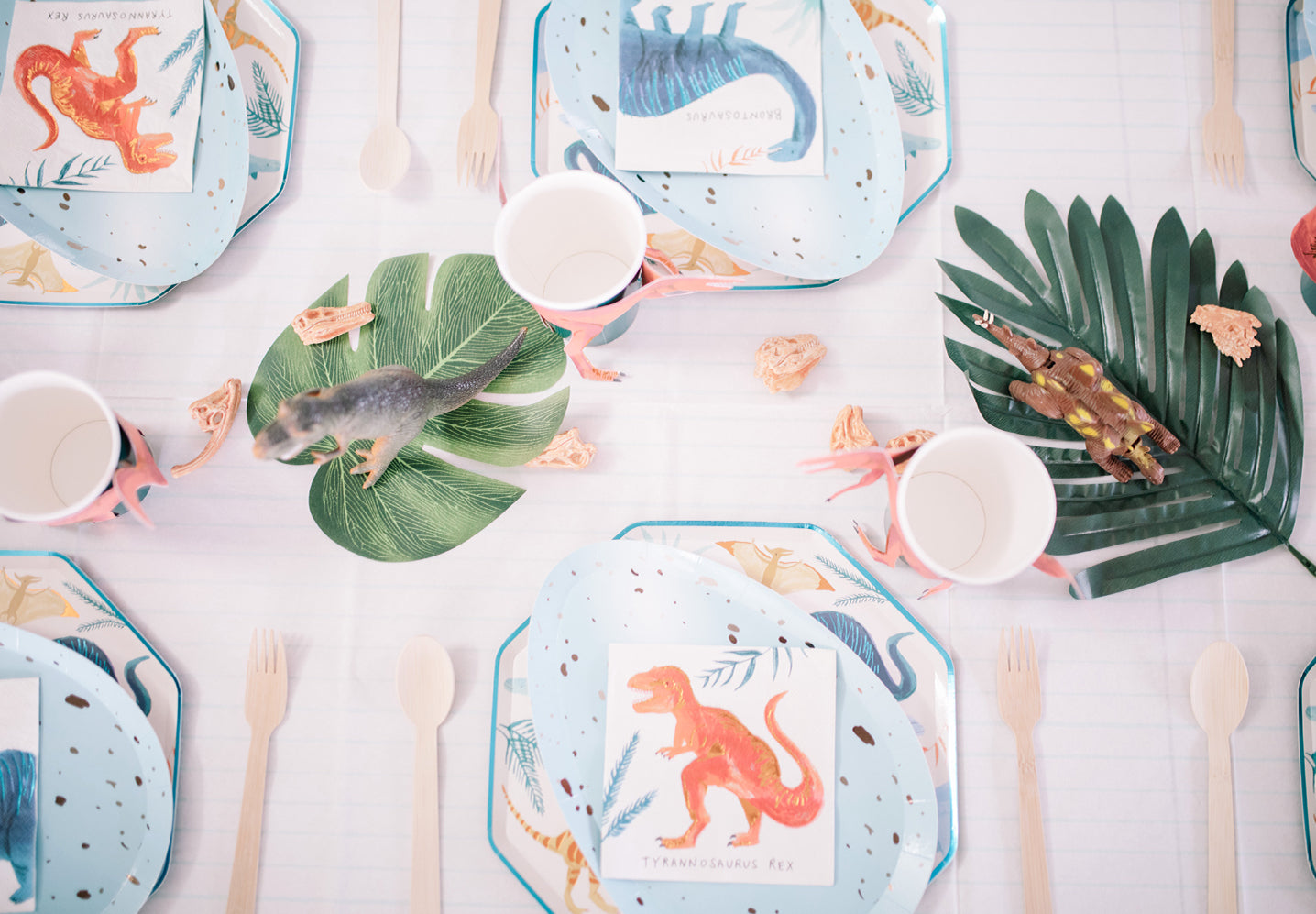 Easy At-home Dinosaur Birthday Party Ideas
Our friend, Nikki from Mornings with Mickey recently threw a totally roar-some dinosaur themed birthday party for her son and it gives us all kinds of thrills! Today we're so excited to share these dinosaur birthday party ideas including decorations, dinosaur-themed food, party favors, and party activities with you. These ideas are not only easy to execute at home but are also totally fun and Pinterest-worthy that your guests will never forget!
The look and feel of this dinosaur party was inspired by this dinosaur kingdom line that we carry on our shop. The neutral colors and the water-colored dinosaur illustrations including Brontosaurus, T-Rex, Stegosaurus, Triceratops and more, bring a modern and clean look to the dinosaur party.
Dinosaur Party Backdrop
We love how Nikki decorated around dessert table with balloons with the palm tree leaves and incorporated this ROAR foil balloon kit for it to pop. With the matching tropical palm leaf table cover, it set a roar-some scene for a dinosaur adventure!
Dinosaur Party Tablescape 
Nikki used some palm leaves and dinosaur toy figures as the centerpiece for the kid's party table. An alternative is use this palm leaf table runner which can easily transform your kid's party table to a Jurassic world!
One of our favorite parts of this dinosaur party is the use of these robin egg shaped plates as dinosaur eggs. The color works perfectly with these dinosaur kingdom dinner plates and these dinosaur kingdom napkins that feature different kinds of dinosaurs on each of them.
Dinosaur-themed Party Food
When it comes to birthday cakes and cupcakes, a simple hack for busy moms is to use store-bought birthday baked goods and decorate them with themed toppers, like this gorgeous green ombre birthday cake that was topped with the dinosaur toy figures & cake toppers, and these mini cupcakes with matching dinosaur toppers and cases.
We adore these simple and healthy dinosaur themed party treats that Nikki prepared for the guests. Watermelon slices as Stegosaurus spikes and grapes as dino eggs. How fun are these?
These custom dinosaur themed sugar cookies are perfect for the little archaeologists!
Dinosaur Dress-up & Play 
No birthday party is complete with fun birthday hats and these dinosaur party hats with spikes are so fun for the little ones. These Triceratops hats with silly googly eyes or dinosaur masks are perfect for dress-up and have a roar-some time at the party.
Party Favors
These dinosaur favor boxes are perfect to send the little dinosaur fans home with. Alternatively, these matching dinosaur party bags filled with dinosaur goodies like dinosaur temporary tattoos or dinosaur colored pencils are all great party bag stuffers for a dinosaur themed birthday party!
We hope you enjoy these ideas! For more dinosaur party supplies, don't forget to check out our Dinosaur Collection at momoparty.com. :)
Xoxo, 
Tai
Vendors:
Event design/planning: Nikki from Morning with Mickey
Party goods & decorations: Momo Party
Photography: Lindsey Kelsch
Cookies: The Polka Dot Cookie