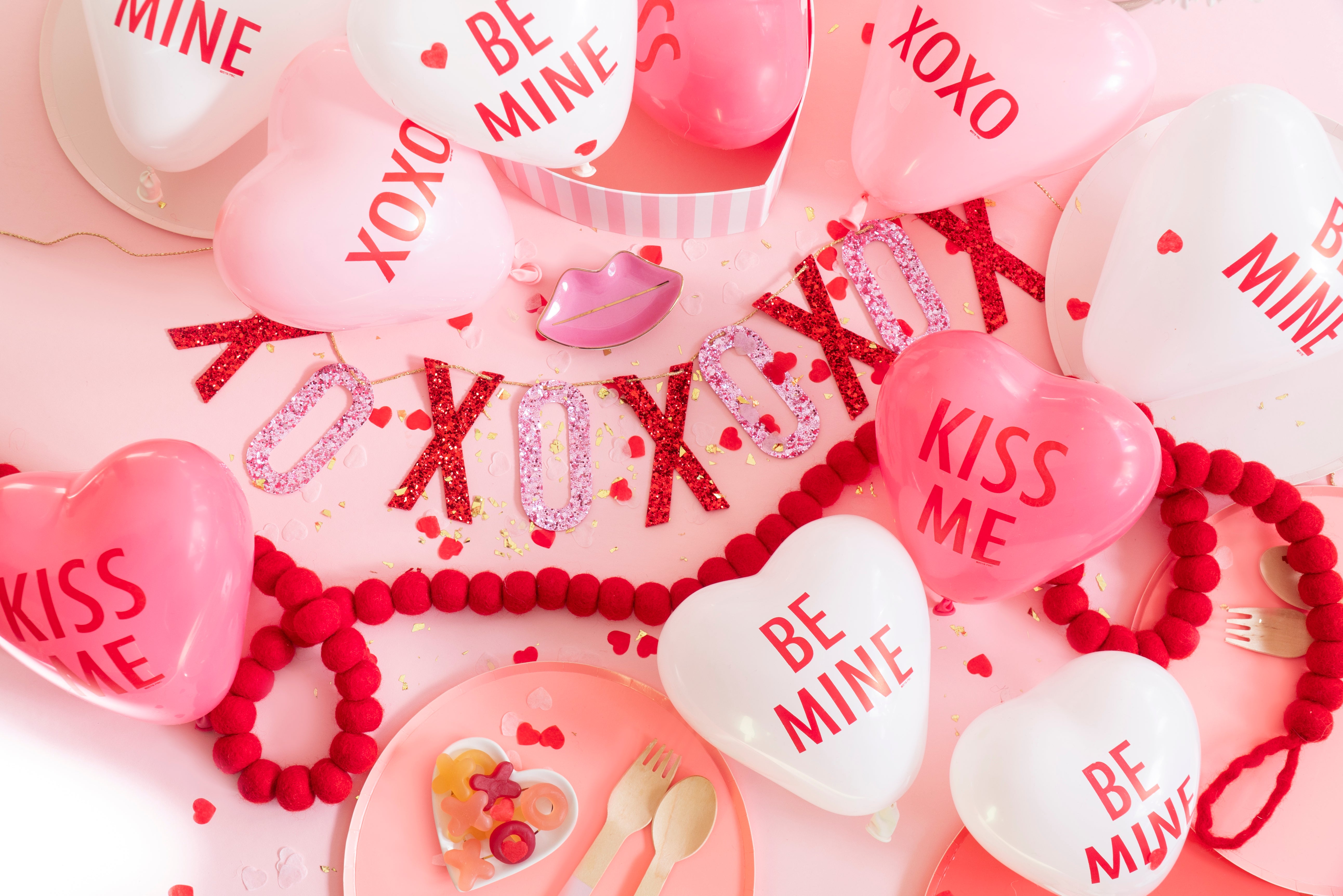 10 Trending Valentine's Day Decorating Ideas
It's almost that time of the year where we celebrate love! Whether you're planning to on a romantic Valentine's Day dinner, a cute kid's Valentine Exchange playdate, or a fun Galentine's Day party with your gal pals, you don't want to miss out on these sweet yet simple Valentine's Day decorating ideas!

1. A Stunning Balloon Backdrop
Create a modern and show-stopping backdrop with organic balloon garlands in the different shade of pink to set a sweet scene for your celebration.
2. A Heart-filled Wall 
If your celebration is indoor, considering a simple and cost-effective backdrop by using these heart shaped plates on the wall and transforming your room to a love-filled space.
3. Unique Valentine's Garlands
To bring the backdrop to the next level. Incorporate some unique banners or garlands that deserve all the XOXOs!
4. Valentine's Day Balloon Bouquets 
Love is in the air! No celebration is complete without fun party balloons and Valentine's Day is no exception. Mix and match latex balloons and heart shaped foil balloons to make a sweet balloon bouquet. Or simply hang these chic XOXO or LOVE letter foil balloons on the wall, party table or your mantle to set the scene!
5. A Sweet Party Table
Set a sweet party table with adorable tableware with heart and love designs in beautiful shade of pink.
Prepare mini charcuterie cones with sweets in cute heart shape and set them up with these adorable smiley heart shaped plates for guests to enjoy these lovely afternoon treats.
6. XOXO Table Cover 
For a modern and clean look, pair this XOXO table runner with a solid colored tablecloth or overlay this on a bare picnic table surface for a modern decorative aesthetic.
7. Party Straws That Spells Love
Take a sip out of this pretty pink word straw that spells love. This unique script letter straw are reusable and will be a hit at your party table.
8. Floral Arrangement
Use floral arrangement with lots of pink, red and white to create a romantic centerpiece. To add some boho vibes, add some fluffy pampas grass to add some soft and sweet texture for the table.
9. Watercolor Party Pennants 
We also love these "XOXO" and "Be Mine" party pennants in modern watercolor design. They will go so well with the floral centerpiece and set the theme for the celebration. 
10. Red and Pink Pillows & Throws
Dress your room or picnic table with red/pink pillows and throws to create a romantic vibe and enjoy a lovely time with your loved ones!
We hope you find these ideas helpful! You can find these supplies in our Valentine's Day Collection. Until next time!
Xoxo, 
Tai & Yao