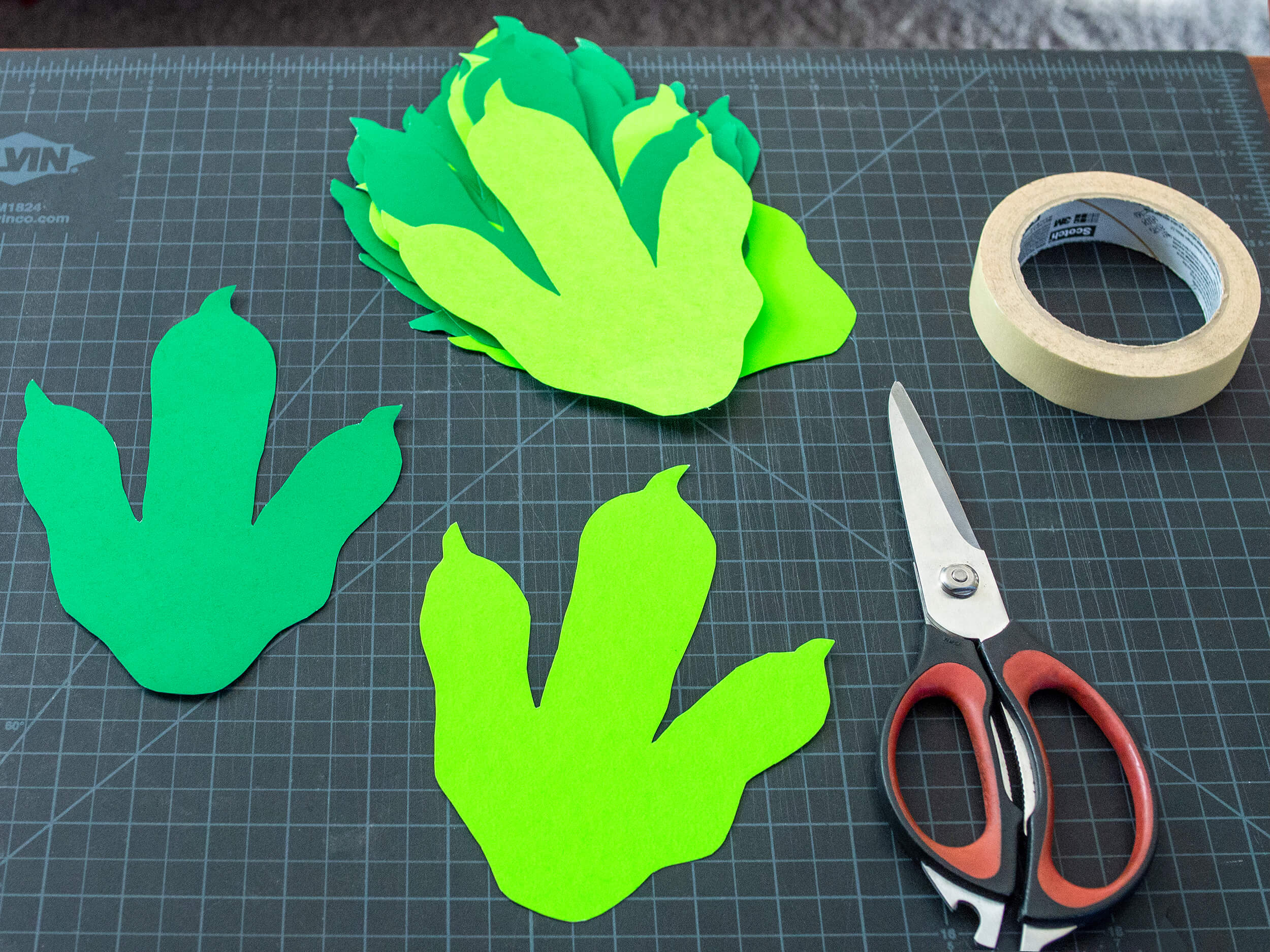 Roarsome Dinosaur Footprint DIY Tips
In the roar-some dinosaur birthday party that we helped party-plan a few weeks ago, we added extra fun by including a trail of these cool dinosaur footprints in the long stairway to welcome the guest. These dinosaur footprint decorations not only excite the little ones but they're super easy to make and don't require many crafting skills at all!  
Check out the easy step-by-step guide below! 
Materials: 
Green cardstocks (or any other colors you prefer)

Scissors

 

Paper masking tape

Downloadable d

ino footprint template

 

One piece of paper (to print the template)
Step 1: cut the cardstock to about 7 x 5.5 inches each. We used a mixture of two different hues of green to add variety. 
Step 2: download the dino footprint template. Check out the link at the bottome of the post. We printed it at 75% scale on a regular paper and cut out the template. 
Step 3: Use the paper masking tape to make a little loop and tape the back of the cut-out template onto the green cardstock. The reason we recommend using paper making tape vs. regular tape is that it can be re-used multiple times! :)
Step 4: Cut out the cardstock. Once done, remove the paper masking tape from the back and repeat the same for other pieces of cardstock to create multiple footprints. 
Voila! Get ready to RARW!!!
Hope you enjoy this!
For more roar-some dinosaur party supplies, check out our Dinomite Collection and throw the coolest and raddest dino party for your little one!
Xoxo, 
Tai & Yao
* T-Rex dino footprint template from here.