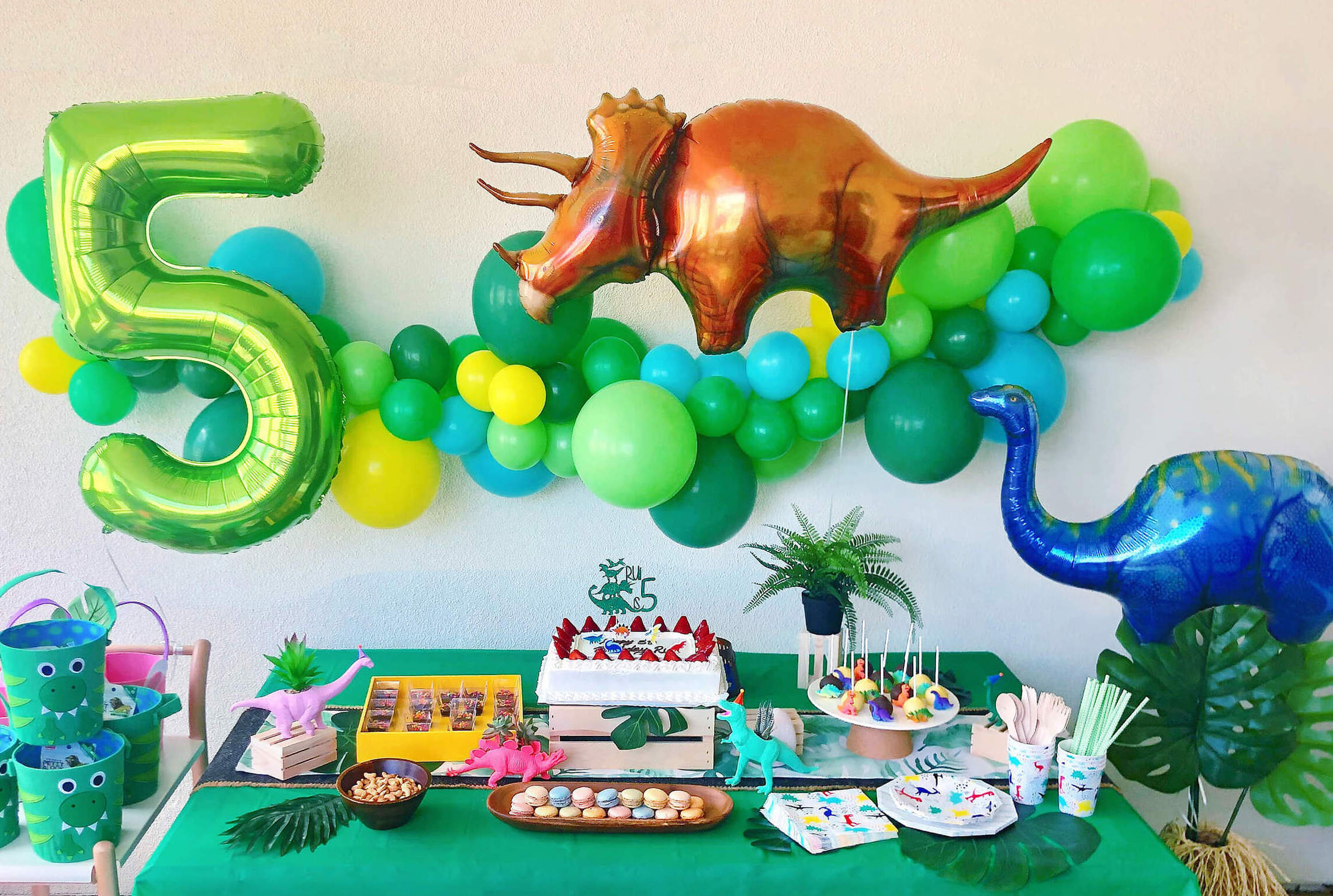 Rawr! Dinomite Birthday Party!
We recently had the pleasure to plan an epic dinosaur party for a special little boy, Rui to celebrate his 5th birthday. We're so excited to finally share all the details from the party! 

The party was held at Rui's house so we were able to dress different parts of the house to give it a prehistoric vibe. We hung these brightly colored green bunting garlands on the wall of the long stairway. These scallop shaped bunting garlands give a festive touch to any events and are the super easy to set up! To add some extra fun, we incorporated some dinosaur footprints on the ground to welcome the little dino-loving guests. Check out our blog post here for a simple DIY tutorial on these awesome dinosaur footprints!
For the cake/dessert table decorations, we created a cheerful backdrop with this cool dinomite balloon cloud to match the color palettes of the party. Along with the jumbo green number foil balloon, we also included the Apatosaurus and the Triceratops mylar balloons to set the dino scene. The birthday boy absolutely LOVED this setup!  
We also found these cool toy dinosaur planters from The Plaid Pigeon. These planters with little succulents in modern neon colors not only make great props for the party table but are unique decors for home. 
For the themed tableware, we absolutely loved these awesome dinosaur plates, cups and napkins by Daydream Society from our dinomite collection. With vibrant colors in paper-cut inspired design, they surely were a hit for this modern and stylish dinosaur party! 
Oh, and did we mention these little candles in dinosaur shapes? With Pterodactyl, T.Rex, Brachiosaurus, Stegosaurus and Triceratops, they were just so perfect for our little dino fan to make a dino-mite wish.
In terms of party activities, since the birthday was around Easter, a timely fun dinosaur egg hunt activity was a no-brainer. Thanks to Rui's mom for this brilliant idea. It definitely kept the little ones entertained! Look at those dinosaur Easter baskets, they couldn't have been more adorable! 

After a fun pool time, the kids were gathered for the pinata time. We loved this jumbo, colorful t-rex pinata. Oh boy, did they have so much fun! Such a perfect way to end this roarsome party! 

Until next time! 
Xoxo, Tai & Yao