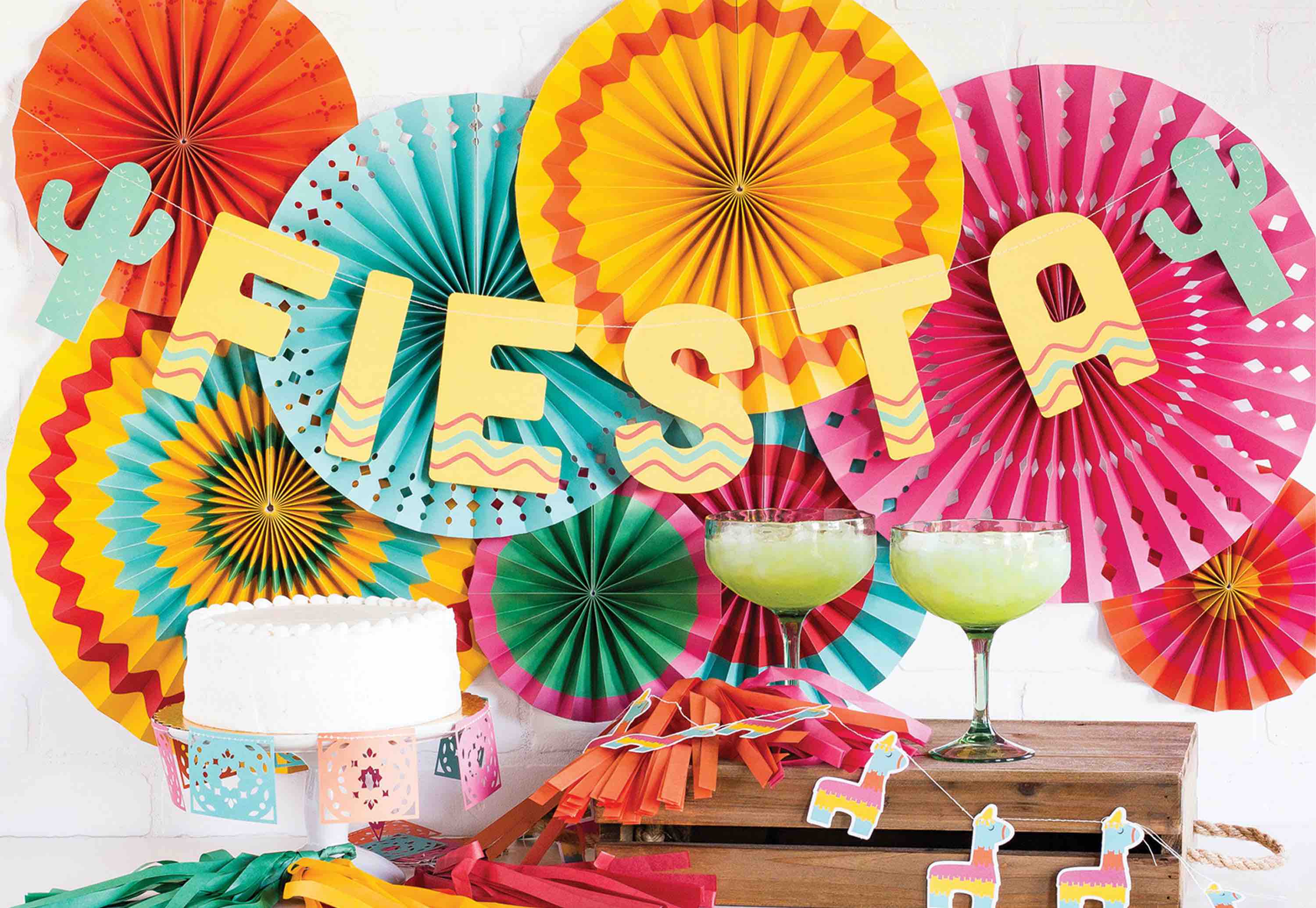 Simple Cinco de Mayo Celebration Ideas At Home
So we heard that this year's Cinco de Mayo falls on a Tuesday! Why not throw a mini Taco Tuesday party at home to celebrate this fun holiday with the family? Today we're going to share with you 4 easy steps to put together a simple fiesta party at home. Friends, get ready to fiesta like there's no mañana!!
1. Simple Backdrop Hack 
No time to create a balloon garland for your backdrop? No problemo! Use any of these colorful pre-strung fans, garlands or banners to simply create an amazingly bright backdrop behind your taco bar! 
Bring some of your favorite fiesta themed foil balloons to your backdrop to add some fun! Like a jumbo sombrero balloon, a cute llama friend, or this giant cactus balloon! No helium? No worries! Simply air fill the foil balloons with this balloon hand pump and attach them to the surface/walls with tapes!
Bonus: we made these super easy cactus balloons with our Lime Green Latex Balloon Mix. Check out this simple step-by-step tutorial here and make yours!
2. Easy Food & Treats
Make it a fun taco night by either ordering in some delicious Mexican food from your favorite taqueria or making your own tacos at home! We love these street tacos from this recipe. Mmmmmmm…..they're absolutely delicious! Don't forget to add some chips and salsa and grab a few Jarritos for the little ones while Mama and Dada enjoy their margaritas!  
Set up your taco bar or dinner table with these fun fiesta themed plates and napkins featuring cactus, llama, and beautiful floral designs. We love the idea to use these cute cactus and llama picks for mini churros. Oh boy, who can resist these?!
3. Activities 
Listen to your favorite mariachi band for dinner and have a fun family dance night afterwards with salsa music! Give the little ones some maracas to shake, shake, and shake for a fun night!
4. Gifts for the Little One
End the night with this cool taco truck toy as a little party gift for the little ones. We're sure it's gonna be an unforgettable Cinco de Mayo celebration for them!
Hope you enjoy today's post! Don't forget to check out our Fiesta Collection for all the fun goodies for your celebration at home! Stay safe everyone!
Xoxo, 
Tai & Yao