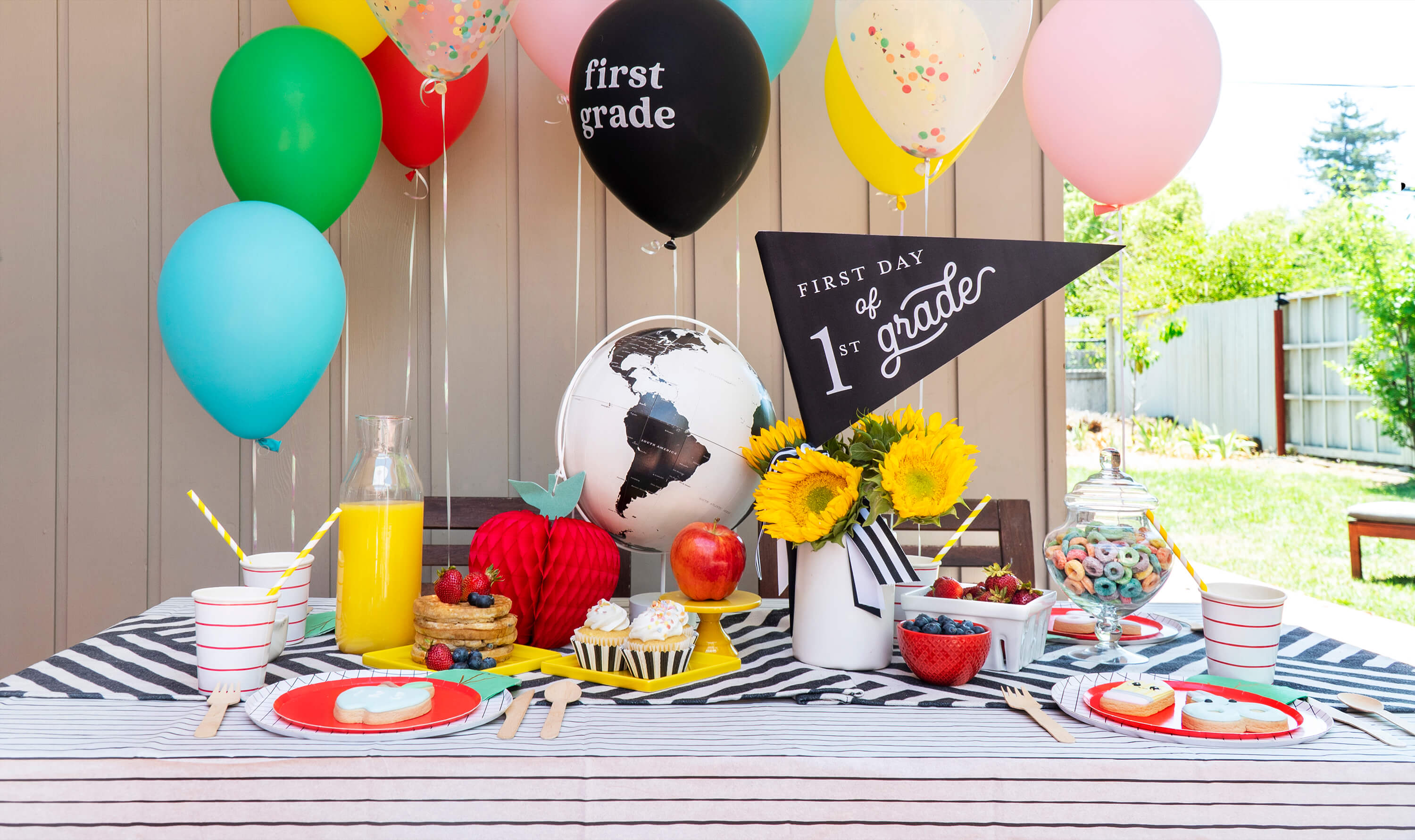 A Fun First Day of School Breakfast Celebration
After a challenging year of distance-schooling due to the global pandemic, I'm beyond excited for my son (and for myself) to welcome to a more 'normal' school year this year! I know many parents are as thrilled about this upcoming school year, so I wanted to share these fun first day of school breakfast ideas to help you celebrate this new chapter with your little ones!
Fun Balloons 
I love this festive back to school balloon mix. Inspired by the colors of school supplies, these bright balloons are perfect for a first day of school celebration. With the grade balloon, they make a perfect backdrop to the breakfast table. Best thing is, they are also great props for your little one's first day of school photo! 
If foil balloons are you jam, you don't want to miss out on these back to school themed balloons! Set a perfect back to school scene with a wall decorated with these adorable balloons. It will be such a sweet surprise for the little one!
Table Setting 
Looking for a happy vibe to welcome the new school year? Sunflowers will definitely do the trick! I love this simple sunflower centerpiece with the first day of school flag. Along with the black and white world globe, it sets a modern & chic tone for the table. 
For the tabletops, I layered the round cherry red plates on the black and white grid plates and topped it with the leaf napkins. With the honeycomb apple decoration, it's a fun way to make a nod to this special back-to-school occasion! 
Food & Treats
The morning of first day of school could be hectic so keeping food simple is the key. Waffles, fruits, cereals in bright colors are usually my go-to breakfast food for special occasion like this. Speaking of special occasion, nothing says more than themed sugar cookies! These adorable school themed cookies by @lillyssugarcrumbs were prefect additions to the feast and made great treats for my little one! 
First Day of School Photos
The celebration won't be complete without first day of school photos! There are so many great ideas for creating memorable photos of your little ones. From letter boards, to grade balloons, flags, honeycomb decorations, school themed signs, they're all perfect for snapping pictures of your little one during this memorable moment! 
I hope that you find these ideas helpful! Don't forget to check out our Back to School Collection for adorable party goods and unique school supplies and get ready for the most anticipated school year. Until next time! 
Xoxo, 
Yao