Article: LONG BALLOON BACKDROP STEP-BY-STEP TUTORIAL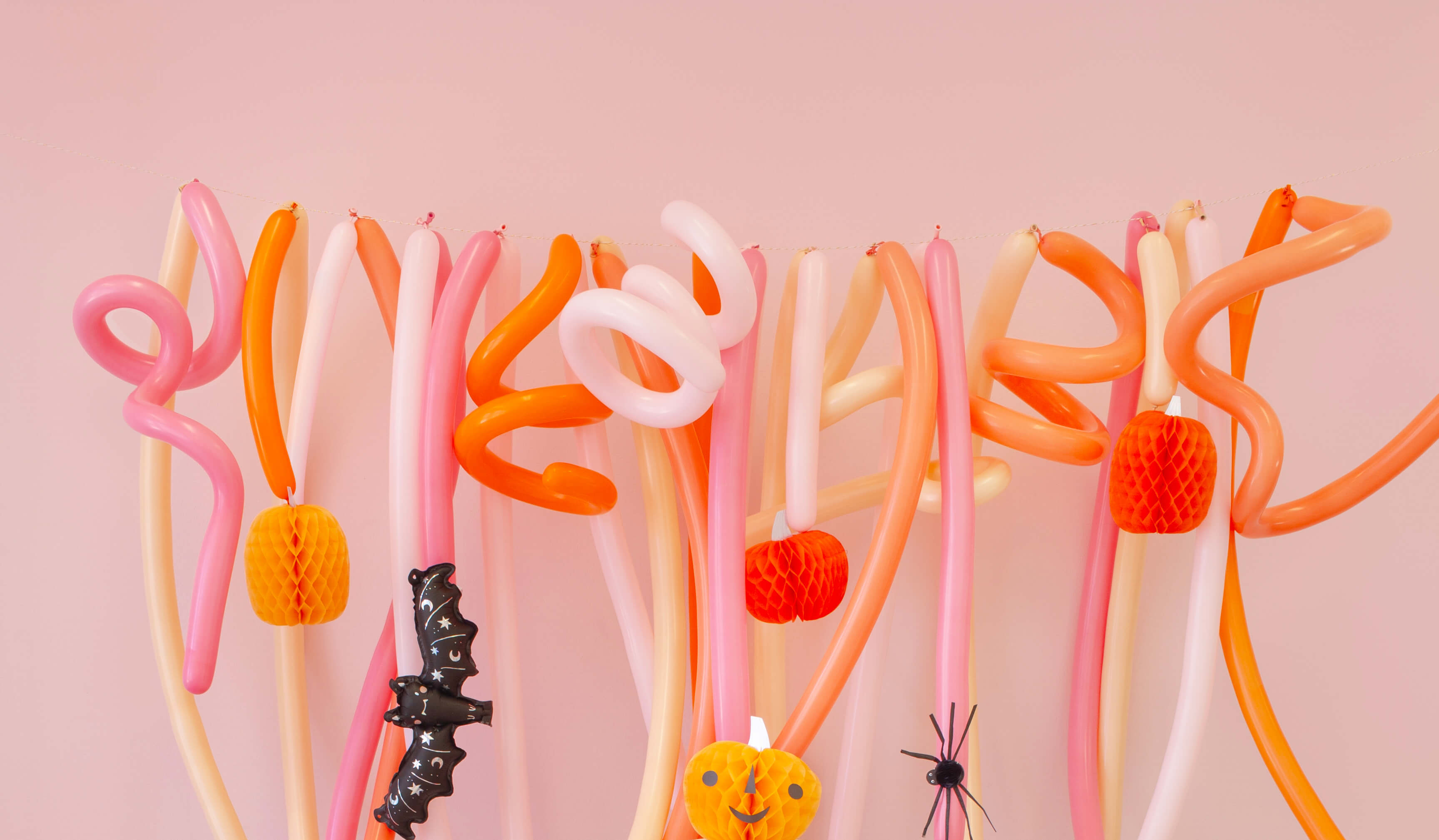 LONG BALLOON BACKDROP STEP-BY-STEP TUTORIAL
You might have spotted the festive long balloon backdrop in our newest Trick or Treat Halloween Box. Its playful and whimsical design is ideal for children's celebrations. Today, get ready for a dose of DIY magic as we show you how to whip up this playful backdrop at home. And believe us, it's as simple as 1-2-3!
Long Balloon Backdrop Materials
Long balloons in various colors

Hand pump 

Twine

Scissors 

Clamps (optional)
Instructions
Use our double-action hand pump to inflate the long balloons. Before inflating, give your balloon a quick stretch so it's easier to inflate. Avoid over-inflating to prevent popping.

To make a shorter balloon, don't inflate the balloon to full length; tie a knot and cut the unused end. Or you can just leave the tail uninflated.

To create a fun curl, secure the end of the balloon to a pole with a clamp and wrap the balloon around the pole. Then inflate the balloon until it's full. Lastly, undo the clamp and let out a bit of air from the opening of the balloon before tying a knot.

 

If you don't have a clamp or a pole handy for the curl, you can always ask another person to secure the end of the balloon to a broom stick as you inflate. In this case, we used another balloon pump as the support.

 

Tie balloons in pairs with knots. Mix and match the length and color for an organic look.

Hang the paired balloons along the twine, and feel free to add other decorations like mini air-filled balloons, or honeycomb decorations for an extra dose of fun.

Voila! You've created a playful long balloon backdrop
Helpful Tips
A long balloon backdrop will only last a couple of days, so we suggest making it the day before the party for the best look.

Don't worry if the curl isn't perfect. Sometimes it makes the shape more fun and organic!
Warning: Children under 8 years old can choke or suffocate on uninflated or broken balloons. Adult supervision required. Keep uninflated balloons from children. Discard broken balloons at once.