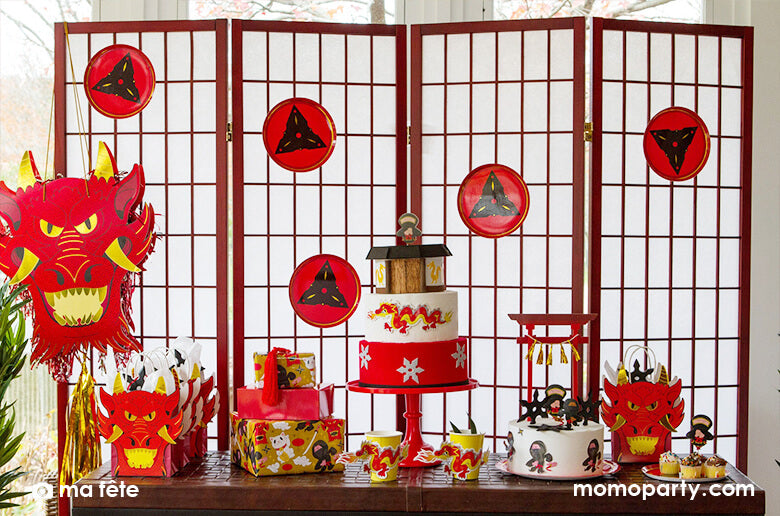 Ultimate Ninja Party Ideas for Kids
Is your child a fan of Ninjago, ninja shows or games? Why not throw a ninja themed party for your kid's big day? Check out these action-packed and fun-filled party ideas for an unforgettable celebration!
Decorations
Create a ninja backdrop with a Japanese screen divider to set the perfect scene. We love the idea of using these ninja star plates as the decorations.
If you don't have access to a screen divider, you can always relay on balloon decorations! Just use the classic ninja colors of black, red and white and add on these awesome ninja face balloons to make an amazing balloon garland to welcome your guests. We like to incorporate these star point shaped foil balloons or the starburst foil balloons to a ninja balloon cloud. They give some extra cool effects to the party decoration. Lastly, personalize the party by hanging this red letter banner with the birthday child's name.
Tableware
These ninja sword-themed dinner plates, featuring silver and gold foil are in a prefect size for party food like pizzas or sandwiches.
These side plates featuring unique ninja star design are great for cakes. Pair them together with these awesome dragon party cups that feature a fiery dragon sleeve, they'll surely spice up any drink!
Food & Treats
To keep the ninja theme, you can serve ninja-themed snacks such as "ninja stars" (star-shaped sandwiches), "ninja rolls" (sushi rolls), and "ninja fruit skewers" (fruit on a skewer). We like the idea of displaying these themed food on this rad ninja food/cupcake stand. With a pagoda design, it also can be used as a spectacular centerpiece for the kid's table!
No time to prepare treats or desserts? No problem. Simply "dress-up" store-bought cupcakes with this cupcake kit featuring ninjas, dragon and ninja darts.
Or use these fantastic treat boxes inspired by Asian takeout boxes to serve finger food.
Dress-up 
Invite your little guests to dress up in their ninja costumes or providing them with these ninja masks. Give out these temporary tattoos to keep those little ninja hands busy with crafting and decorating. Your guests will feel like they've entered a secret training ground for the night!
Activities & Games
Speaking of ninja training, you can set up a training course in your backyard or a nearby park. Simply use pool noodles, hula hoops, cones, and other materials to create an obstacle course. You can even create an obstacle in your living room using pillows, chairs, and other household items. You can also include challenges such as jumping over hurdles, crawling under ropes, etc. Your little guests will surely have a blast!
Party Favors
Send the kids home with some ninja-themed party favors, candies or toys in these amazing ninja gift bags featuring a fierce dragon's face that will remind them of your kid's special day!
A ninja-themed birthday party is a fun and exciting way to celebrate your child's special day. Check out our Ninja Collection and create a memorable experience for your little ninja and their friends.