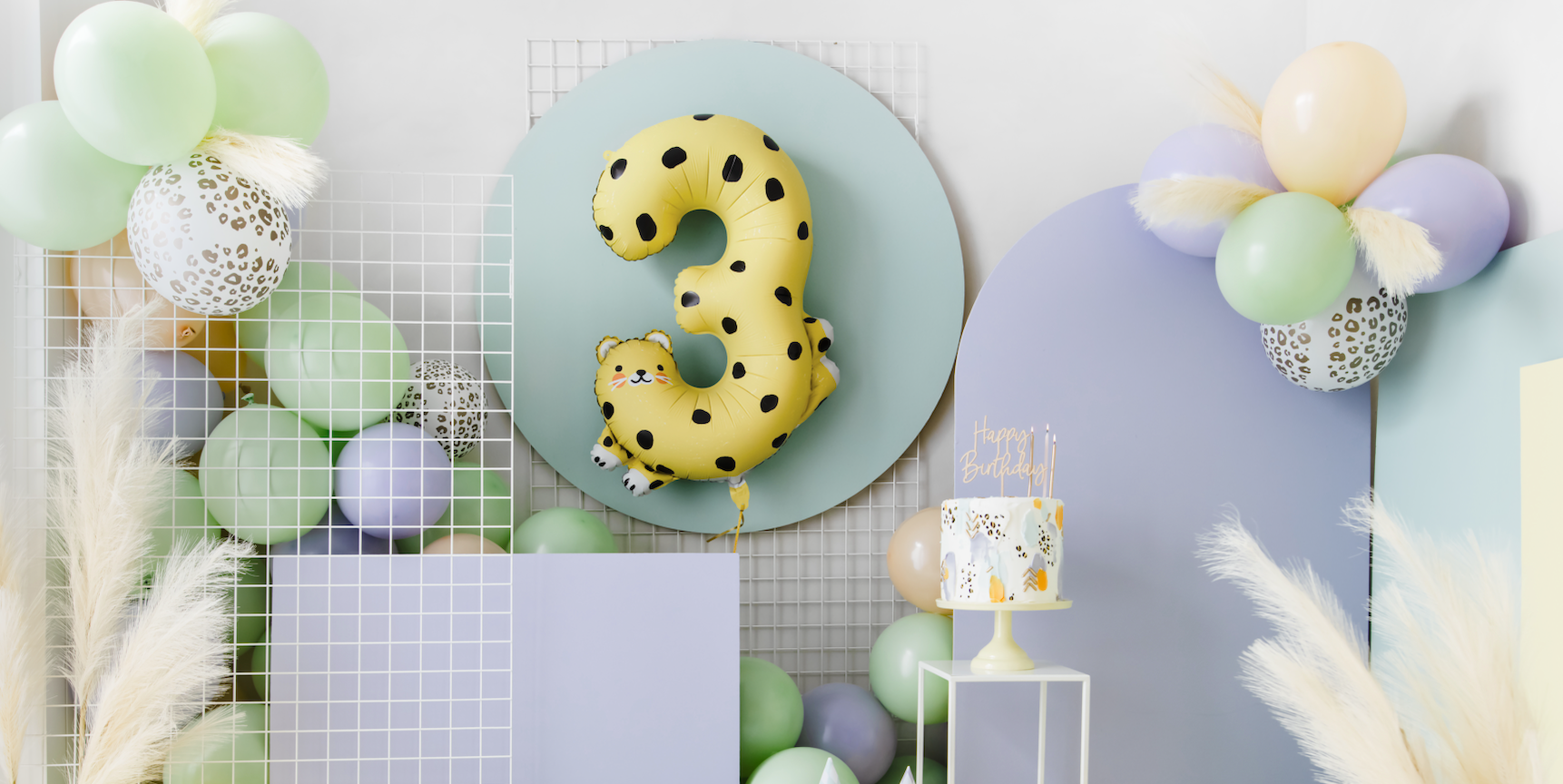 The Best Third Birthday Party Themes
Your child's third birthday is a significant milestone and deserves to be celebrated in a memorable way. A fun and creative themed birthday party can be the perfect way to mark this special occasion and make the little one feel special, especially your kid is at an age where they're showing interest in stuff that they like! Today we're excited to share these creative and popular birthday themes with you to help you create an unforgettable bash with your 3 year old!
Three-Rex
A "three-rex" themed 3rd birthday party is perfect for your dinosaur-loving three year old. Set a prehistorical vibe with this giant dinosaur kingdom garland and hang this "THREE REX" gold foil balloons to set the scene. For the table, use some palm leaves or simply use this Monstera Leaf Table Runner and serve up some dinosaur themed snacks or treats with these cool robin egg shaped plates and dinosaur kingdom dinner plates. With the T-Rex Cups and dinosaur kingdom napkins, it makes a roar-some tablescape for the kid's table! Check out our Dinosaur Collection for all fun dinosaur themed party supplies for your next celebration!
Dirty 3rd-ty
A construction themed birthday party is perfect for your three year old who is into trucks and all kind's of construction vehicles. Decorate your wall with this giant construction garland or this banner set featuring the classic construction vehicle colors of yellow, orange and black. Set the kid's table with these fun construction vehicle themed plates and cone shaped napkins. Prepare these cone shaped tumblers for kids to take a sip of their favorite drinks. For LOADS of fun, prepare some construction hats and temporary tattoos for kids to play dress-up and a truck shaped pinata filled with goodies for theme to break. They'll definitely DIG this fun-filled bash! For more themed party supplies, check out our Construction Collection.
Speed Limit 3 / Third Lap or / Grand Three
A race car themed 3rd birthday party will be so fun for your little three-year-old who loves cars, speed, and everything going vroom vroom! Our Car Collection has everything you need to decorate your little one's fun birthday bash. From checkered tableware, race car balloons, banners to race car shaped plates, cups, napkins, we've got it all! Oh and don't forget to treat your little racers to a yummy goodies featuring race car-themed cakes, cupcakes, and cookies!
Young, Wild and Three
A "Young, wild and three" themed 3rd birthday party is a fun way to celebrate your little one's wild and adventurous side. Our Get Wild Collection featuring jungle and safari animal themed party supplies is perfect for your child's special day. From safari animal number balloons, jungle inspired party garlands and tableware, to safari animal-inspired party favors & activities such as dress-us masks, temporary tattoos, and toys, we've got it all to thrill and entertain the little ones!
Three-esta
"Three-esta" is a fun and playful way to celebrate you kid's third birthday. It's a fiesta themed party with a twist that focuses on the number three. Set a festive scene with fiesta themed balloons like a sombrero balloon or this cool taco truck balloon and make a fun DIY cactus balloon with our Lime Green Latex Balloon Mix. Serve up some tacos, chips and salsa using these taco truck plates and avocado shaped appetizer plates. Set up a fun photo booth with props like sombreros, maracas, and mustaches for pictures. Last, don't forget to prepare a piñata filled with treats. It will surely be a hit on your three year old's big day! For more fiesta themed party supplies, check out our Fiesta Collection.
Three-I-E-I-O
Herd your cattle and gather your sheep, we're having a fun barnyard bash! A farm themed birthday party is such a fun and cute theme for your 3-year-old. Create a rustic farm vibe with bales of hay, wooden crates, and add some farm animal shaped balloons to set the scene. Set your table with these farm themed tableware including these barn house shaped plates, rooster cups and tractor shaped napkins from our Farm Collection. For activities, prepare these adorable farm animal walker balloons for the little farmers to walk them around, they'd definitely want to party until the cows come home!
Three Strikes
A "Three Strikes" baseball party is a perfect theme for a baseball loving family to celebrate with their three-yea-old. Set the scene with this awesome Major Leaugue baseball balloon. You can use this set of red letter banner to spell your child's name to make it extra special for the wall decoration. For food and drinks, serve up classic baseball game snacks like hot dogs, popcorn, and peanuts and use these awesome tableware including baseball shaped plates, cups, and napkins to make your celebration a home run. Check out our Sports Collection for more themed party supplies!
Three Point
A "Three Point" basketball themed 3rd birthday party is perfect for your little NBA fan! Build a balloon garland with the classic basketball colors of orange and black and add some basketball shaped foil balloons to set the scene! Serve up some classic basketball game snacks like nachos, popcorn, and pretzels with these basketball tableware including plates & napkins and orange lemonade in these basketball party cups. Check out our Sports Collection for a slam dunk celebration!
We hope you find these fun 3rd birthday party themes helpful! Until next time!
Xoxo,
Tai & Yao
The Best Fourth of July Party Decor Ideas
Looking to throw the ultimate 4th of July bash? Look no further! In this blog post, we've got you covered with a roundup of fantastic party ideas to make your Independence Day celebration a blast. ...
Read more