Article: Dig In! Construction Birthday Party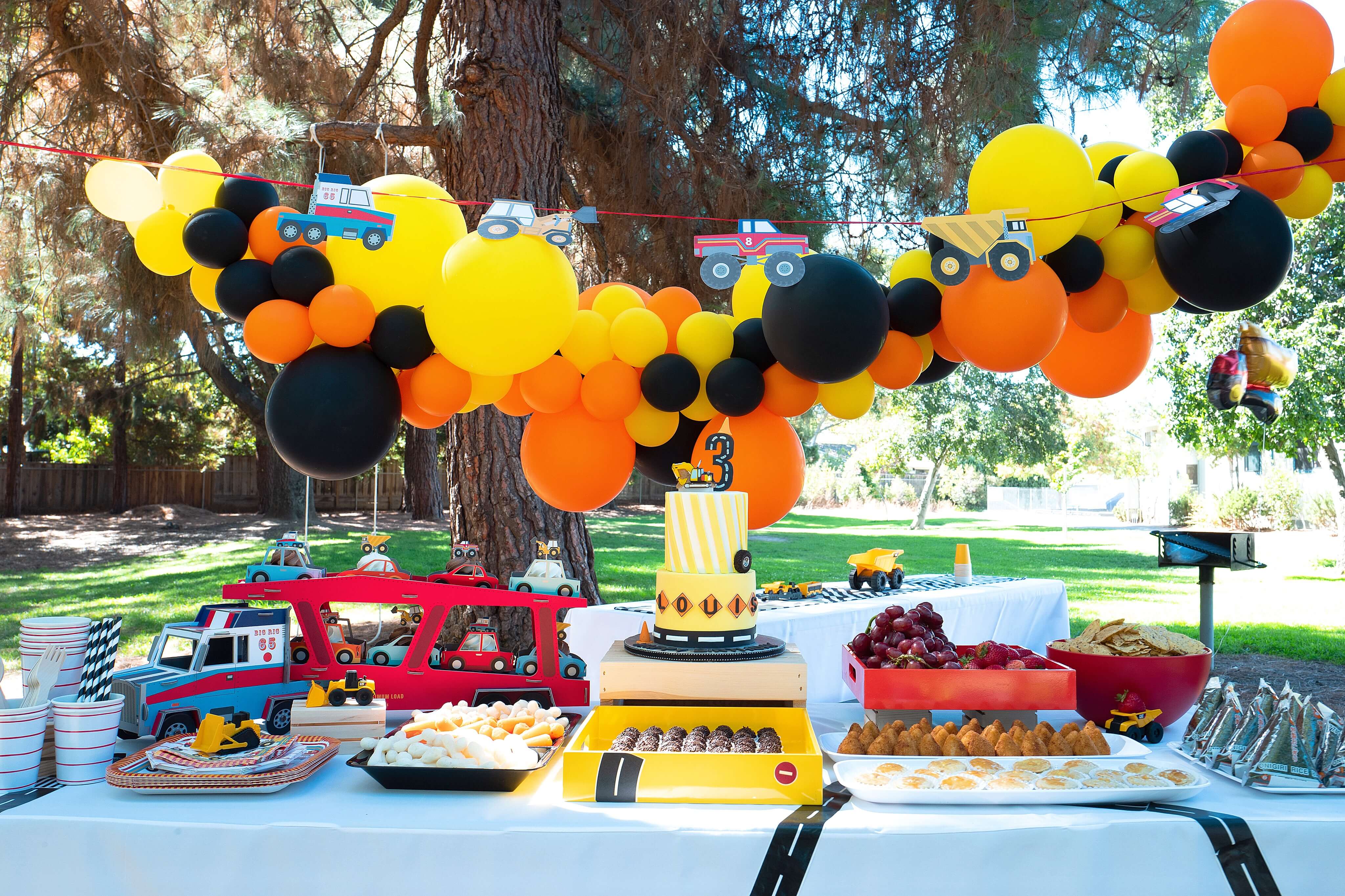 Dig In! Construction Birthday Party
My little guy is at an age where he's into all kinds of trucks and construction machinery. When he was asked about the theme of his 3rd birthday, of course he picked a theme around all mighty trucks! We put together a super fun construction themed party called "Dig In" and guess what? The little guy had LOADS of fun at his awesome party! 
The party was held at the park with about 24 people, including 8 little ones.  We used the classic construction color palette including bright yellow, orange and onyx black to create  a rough and tough yet playful vibe. We made an awesome balloon cloud with this classic color combo and  incorporated the cool big rig garland and voila! It really helped set the scene and made the dessert table pop!
Speaking of the dessert table, we used this road tape curve set to "path" the roads on the table to create extra fun. I personally LOVE this set since it's so versatile! It lets you create instant roads anytime anywhere to keep those little hands busy (my little one can play cars and trucks with this tape set for HOURS!) On the table, there was this amazing construction cake by amazing DH Cake Studio which was topped with this adorable digger candle. The cake not only had all the construction elements in the design details, it also tasted fantastic! For anyone who's in the San Francisco Bay Area, we highly recommend Daphne's cake!
For the cupcakes, we used big rig cupcake kit which comes with different toppers like diggers, monster trucks, tippers for the little truck-loving monkeys. We sat these cupcakes on the big truck centerpiece. Love how it turned out!  
In terms of party activities, we set up a fun bulldozer tent next to the kid's dining area and boy they had a blast! We also found a dump truck pinata at a local store and filled it with our favorite goodies. 
For the party favors, we prepared the wooden mini mover construction trucks in these big rig party bags. These fun mini trucks come with different designs and each truck has a moving part to keep the little ones entertained. We also prepared these super cool tattly tattoos for the little ones. These aren't your ordinary temporary tattoos. They're printed with vegetable-based ink and are totally safe without toxic. Best thing is that they last for days to keep the kiddos happy. We can attest that! ;)
Hope you all like this!
Xoxo, Tai
CREDITS
Photography: Ana Do Amaral 
Design & planning: Momo Party
Party in a box: Dig In Momo Box
Cake: DH Cake Studio