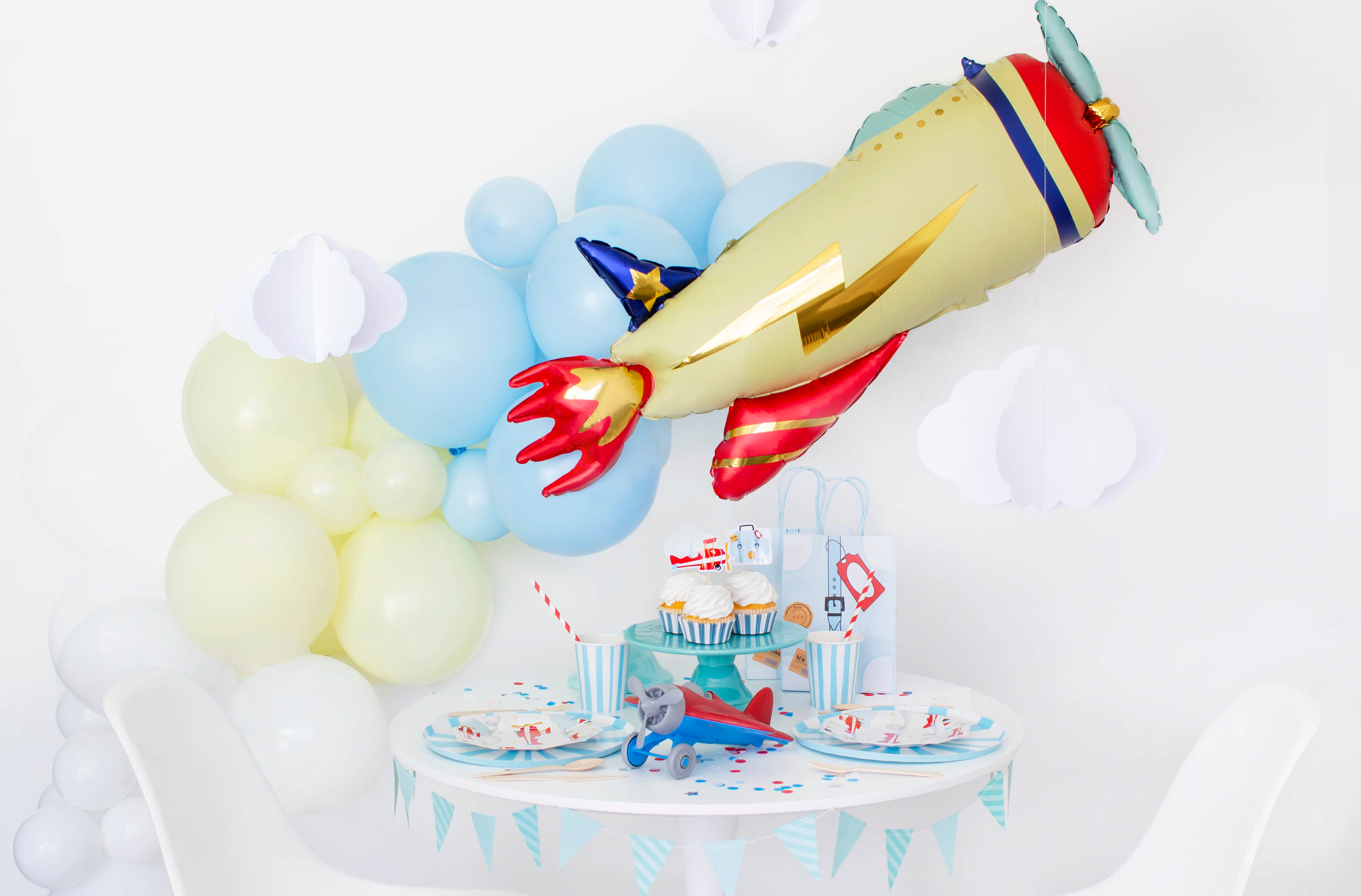 Best Easy Airplane Birthday Party Ideas
Up, up & away! Fly on over to these easy airplane party ideas that you can easily recreate at home with your little pilot!
Airplane color scheme
When it comes to an aviator themed party, a color scheme of red, blue, white with a hint of yellow can best represent it. We like these colors in our airplane balloon cloud which consists matte blue, ivory and .This color combination also gives it a softer look and will work perfectly for a "time flies" themed first birthday party or a toddler boy's birthday celebration.
Modern airplane balloons
We're absolutely obsessed with this adorable airplane foil balloon with a gorgeous matte finish to it. With a modern design and cute illustrations of the lightning bolt and stars on it, it's perfect for your little traveler or little adventurer!
Fun sky background 
These simple cloud paper decorations are great additions to an airplane themed backdrop. Create a fun sky scene with these clouds that come in various sizes hanging down for the airplane to fly high!
Airplane themed tableware
These airplane plates with vibrant airplanes in red and cute cloud and sky illustrations are great to set the scene for your little one's aviation themed party. We like pairing them with these simple yet festive blue stripe dinner plates. Along with the matching party cups and these adorable happy cloud napkins, this table is ready for some "in-flight" snacks!
Party table decorations
To set the airplane scene for your party table, an easy way is to use some airplane toys as the centerpiece and decorate around it. You can also use some vintage suitcases by the table as the prop or pile them up and use them to create a unique food station.
Cake and treat ideas
We like simple and modern cakes for children's birthday. Decorate this beautiful blue ombre cake with these modern Happy Birthday Cake toppers in happy colors of blue, red and yellow. It's perfect for a boy's birthday celebration!
A birthday party isn't complete with themed cupcakes! Simply decorate your home-made or store-bought cupcakes with these cute airplane toppers that your little captain will love!
Airplane party activity 
Hand these fun Jet Boy Airplanes to the kids for them to assemble, color and decorate and have a fun airplane race in the backyard. They make great party favors for the little guest to bring home with.
We hope you find these ideas helpful! For more airplane themed party supplies, don't forget to check out our Airplane Collection.