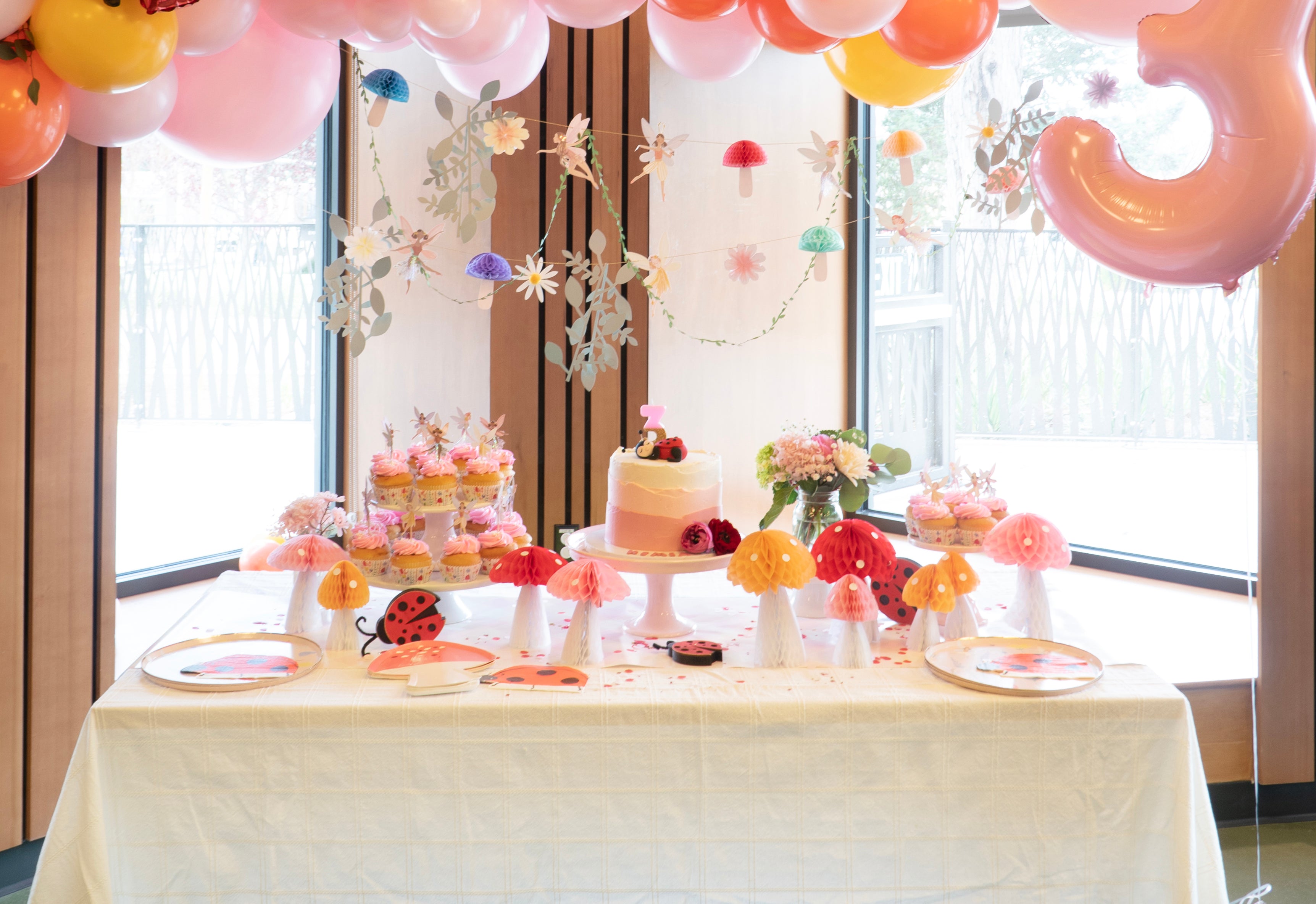 An Enchanting Fairy & Ladybug Inspired Birthday Party
Spring is in the air and it's a perfect time for celebrate birthdays for your spring-born loved ones. Check out the post to see how to create an enchanting spring birthday celebration.
A few weeks ago we helped style a beautiful fairy & ladybug birthday party for a special little girl of our friend. We had so much fun designing, styling and planning this whimsical event and we're thrilled to share all the fabulous party ideas including decorations, treats/food and party activities with you.
Party theme and color scheme
Our birthday girl is a a big fan of ladybugs and our mama friend loves everything about fairies so why not combine both? With the theme in mind, we went with the color scheme of light pink, peach, with a splash of red from the inspiration of the ladybug.
Backdrop Decorations
We built a 12 ft balloon garland with the color combination of pastel pink, goldenrod, coral with different sizes of latex balloons. At both sides, we added the pink number 3 balloon and this adorable holographic ladybug shaped foil balloon to set the theme. Underneath the balloon garland, we used this gorgeous Fairy Garland Set that comes with beautiful  embellishments like leaves, flowers and honeycomb mushrooms which created a magical atmosphere to the party table.
Dessert Table
We used this pretty light pink gingham table runner for the table and placed this set of Honeycomb Mushrooms around the table as the centerpiece to set the whimsical tone of the party. With some spring flower arrangement along with the coordinating tableware including the Fairy Dinner Plates with the Mushroom Side Plates and these adorable Ladybug Napkins, the dessert table was transformed into a whimsical spring garden!
Cakes, Cupcakes, and Food
A simple yet modern pink ombre cake with a cute ladybug was prepared for the special birthday girl. We topped it with this beautiful pink glitter number 3 birthday candle. Alongside were these light pink cupcakes decorated with beautiful fairy toppers. The hostess also prepared some finger goods, mini pizzas juices and lemonade for the guests to enjoy.
Party Activities
Since most kids at the party were younger ones, we set up a craft table where the kids can draw and color their own fairy or ladybug using paint and glitter. We also prepared some Fairy Temporary Tattoos to keep the little ones entertained. You can also have a scavenger hunt where the children search for hidden fairy doors or ladybugs.

We were so happy to help create a magical and memorable bash for the birthday girl's 3rd birthday. We hope these creative planning ideas help you create an enchanting atmosphere that will transport your guests to a whimsical fairy garden. Don't forget to check out these amazing party supplies from our Fairy Collection. See you next time!
Xoxo,
Tai & Yao