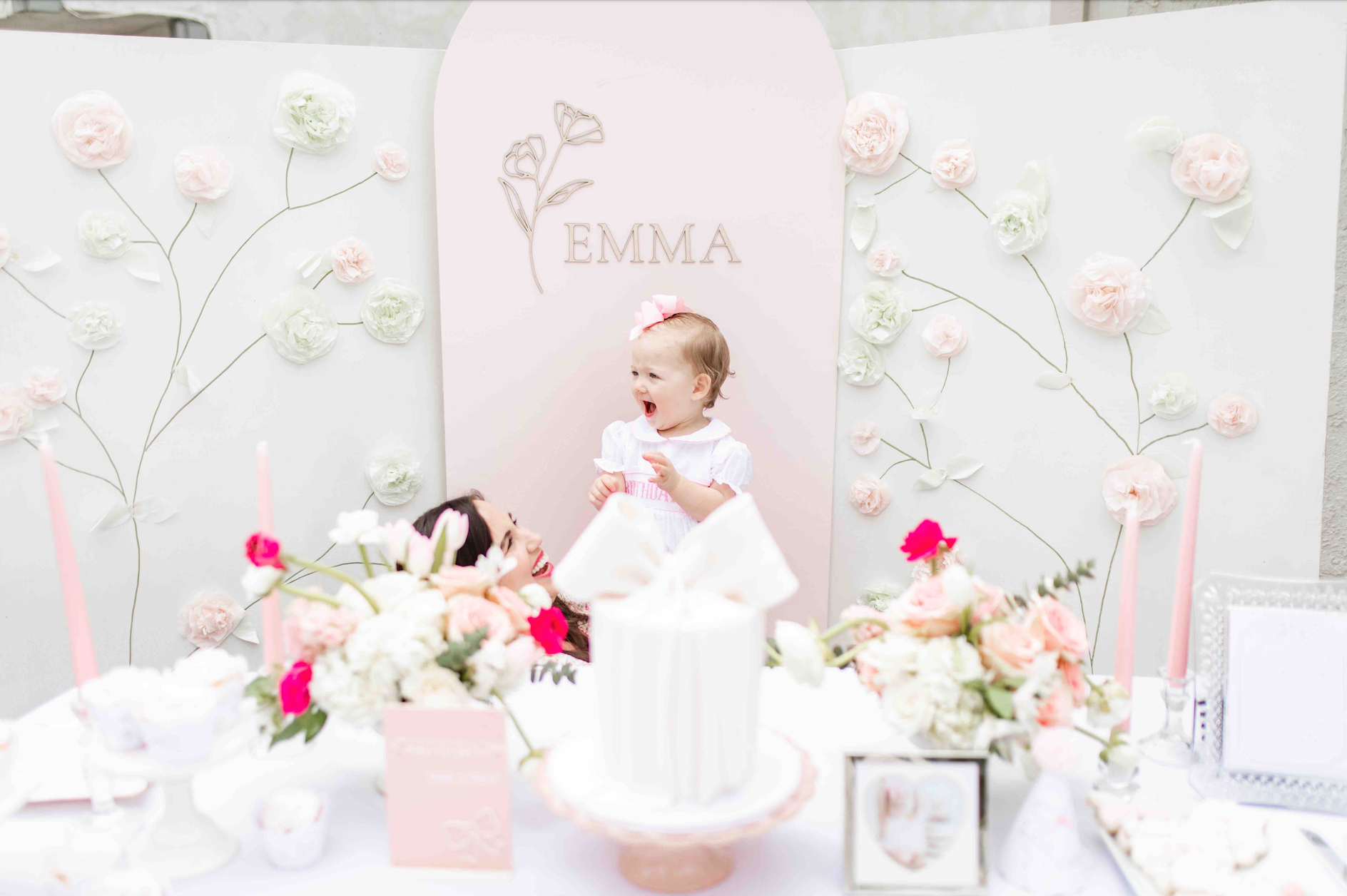 A Beautiful "Bunnies & Bows" Themed Girl's First Birthday Party
A girl's first birthday is an important milestone that calls for a memorable celebration. Our amazing friend, Nikki from Mornings with Mickey recently held a gorgeous "bunnies and bows" first birthday party for her baby girl, Emma. Today we're so excited to share these fabulous girl's first birthday party ideas including decorations, treats/food, party favors, and party activities with you. These ideas are not only perfect for girl's birthday but also give great inspirations for a spring or Easter inspired party!
Backdrop Decoration
The "bunnies and bows" theme is all about soft, pastel colors, lots of pink bows and most importantly, adorable bunnies. For the main backdrop decoration and dessert table, Nikki hand-made some tissue paper flowers in soft pink and mint for the backdrop. It looks absolutely beautiful and makes a perfect backdrop for birthday party photos!
Table Setting
Nikki set a beautiful long table for adults and a small kid's table next to the dessert table. For the adult table, she chose these scallop-edged pale pink eco plates in large and small and these elegant blush cutlery set, with the pink bow on the personalized menu and the beautiful floral & candle arrangement, it created such a gorgeous tablescape!
To keep it fun and playful for the kids and to stay with the theme of the party, she gave it a little Easter bunny touch the kid's table by pairing the Pink Gingham plates and these watercolor Easter scallop plates, along with these darling watercolor bunny napkins and the gingham party cups in soft pastel colors, all on a pink gingham runner. With these jumbo pastel pink balloons in the back, the table looks egg-tra adorable!
Dessert Table & Cakes
The dessert table was covered with goodies with soft pink bows for the birthday girl! From custom sugar cookies, to cupcakes, to this beautiful pale pink bow birthday cake. Even the adult cocktails are color-coordinated! Next to the dessert table was the Cotton Cloud's cotton cart and it was definitely a hit for the kids at the party!
Crafts & Entertainment 
Nikki prepared some Easter cookie decorating kits with pastel sprinkles and decorations for the kid's table. The kid's playhouse was decorated with this pretty Ladurée Paris Garland with light pink tissue paper flowers and bows and next to it was the adorable bunny petting zone. How cute are they?
This "bunnies and bows" themed first birthday party is such a sweet and adorable way to celebrate the little birthday girl, Emma's milestone. We absolutely love all the details that Nikki put into this event and we're so glad to be part of this and help create a memorable and magical experience for  Nikki's family and friends!
Xoxo, 
Tai & Yao
Photography: @lindseybohne 
Party Supplies: @momopartykids
Cotton Candy: @the_cottonclouds 
Bunnies: @johnson.bunny.barn 
Birthday Plate: @tricialowenfielddesign